Serendip is an independent site partnering with faculty at multiple colleges and universities around the world. Happy exploring!
Enzymes Help Us Digest Food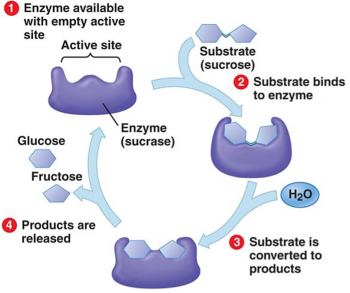 In this hands-on, minds-on activity, students investigate the biological causes of Maria's symptoms and Jayden's symptoms. To explore the causes of these symptoms, students carry out two experiments and interpret the results, and they answer additional analysis and discussion questions.
Students learn about enzyme function and enzyme specificity as they figure out that Maria's symptoms are due to lactase deficiency (resulting in lactose intolerance) and Jayden's symptoms are due to sucrase deficiency.
In the final section, students are challenged to generalize their understanding of enzymes to interpret a video of an experiment with saliva, starch and iodine. This activity can be used in an introductory unit on biological molecules or later during a discussion of enzymes.

Download Student Handout: PDF format or Word format
Download Teacher Preparation Notes: PDF format or Word format
We invite comments on this NGSS-aligned Hands-On Activity and the accompanying Teacher Preparation Notes, including suggestions for other teachers who are planning to use the activity, useful preparatory or follow-up activities, additional resources or any questions you have related to the activity, or a brief description of any problem you might have encountered. If you would prefer to send your comments or questions in a private message, please write Ingrid Waldron at iwaldron@upenn.edu.