Serendip is an independent site partnering with faculty at multiple colleges and universities around the world. Happy exploring!
Mitosis and the Cell Cycle - How a Single Cell Develops into the Trillions of Cells in a Human Body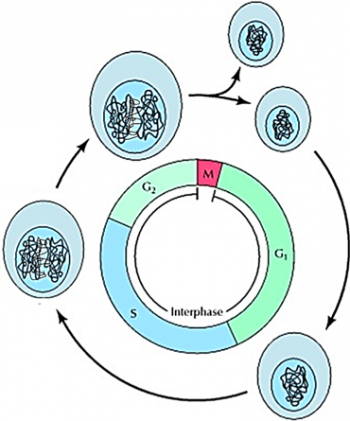 In this hands-on, minds-on activity, students use model chromosomes and answer analysis and discussion questions to learn how the cell cycle produces genetically identical daughter cells.
Students learn how DNA replication and mitosis ensure that each new cell gets a complete set of chromosomes with a complete set of genes.Students learn why each cell needs a complete set of genes and how genes influence phenotypic characteristics.
To understand how a single cell (the fertilized egg) develops into the trillions of cells in a human body, students analyze an exponential growth model of increase in number of cells. The final section provides a very brief introduction to cellular differentiation.
This activity can be used as an introduction to mitosis or to reinforce understanding of mitosis.
In our follow-up meiosis and fertilization activity (/sci_edu/waldron/#meiosis) students learn how the movement of gene-carrying chromosomes during meiosis and fertilization results in the inheritance of genes. (NGSS)

Download Student Handout: PDF format or Word format
Download Teacher Preparation Notes: PDF format or Word format
The Teacher Preparation Notes provide instructional suggestions and background information and explain how this activity is aligned with the Next Generation Science Standards. A remote-ready analysis and discussion version of the Student Handout is available at https://serendipstudio.org/exchange/bioactivities/MitosisRR. The attachments below provide the older version of the Student Handout in case you have already made model chromosomes and do not want to change the symbols for the alleles of the genes.