Serendip is an independent site partnering with faculty at multiple colleges and universities around the world. Happy exploring!
How do muscles get the energy they need for athletic activity?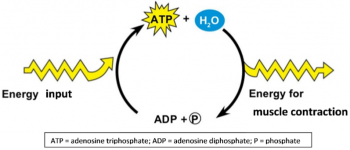 In this analysis and discussion activity, students learn how muscle cells produce ATP by aerobic cellular respiration, anaerobic fermentation, and hydrolysis of creatine phosphate. They analyze the varying contributions of these three processes to ATP production during athletic activities of varying intensity and duration.
Students learn how multiple body systems work together to supply the oxygen and glucose needed for aerobic cellular respiration.
Finally, students use what they have learned to analyze how athletic performance is improved by the body changes that result from regular aerobic exercise.
The Student Handout is available in the first two attached files and as a Google doc designed for use in distance learning and online instruction. The Teacher Notes, available in the last two attached files, provide instructional suggestions and background information and explain how this activity is aligned with the Next Generation Science Standards.