Serendip is an independent site partnering with faculty at multiple colleges and universities around the world. Happy exploring!
Understanding How Genes are Inherited via Meiosis and Fertilization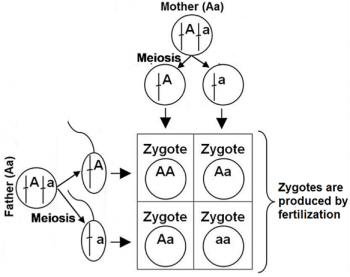 In this minds-on activity, students answer analysis and discussion questions to learn how a child inherits one copy of each gene from each parent via the processes of meiosis and fertilization. They analyze how the processes of meiosis and fertilization result in the alternation between diploid and haploid cells in the human lifecycle.
To learn how meiosis produces genetically diverse gametes, students analyze the results of crossing over and independent assortment.
Then, students follow the alleles of a human gene from the parents' body cells through gametes and zygote to a child's cells. They learn how the outcomes of meiosis and fertilization can be represented in a Punnett square.
A brief final section contrasts sexual reproduction with asexual reproduction.
This activity can be used to introduce meiosis and fertilization or to review these processes. A hands-on version of this activity is available as "Meiosis and Fertilization – Understanding How Genes Are Inherited".
The Student Handout is available in the first two attached files and as a Google doc designed for use in online instruction and distance learning. The Teacher Notes, available in the last two attached files, provide instructional suggestions and background information and explain how this activity supports the Next Generation Science Standards (NGSS).