Serendip is an independent site partnering with faculty at multiple colleges and universities around the world. Happy exploring!
COVID-19 Vaccines – How do they work?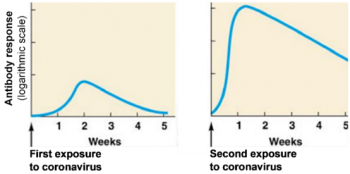 Students learn that vaccination or a previous coronavirus infection reduces the risk of severe Covid-19.
They learn how the immune system responds to a coronavirus infection and analyze how this response differs after a first vs. second exposure to the coronavirus.
Then, students analyze the biological effects of an mRNA vaccine and develop an evidence-based explanation of how vaccination protects against severe Covid-19.

The Student Handout is available in the first two attached files and as a Google doc designed for use in distance learning and online instruction. The Teacher Notes, available in the third and fourth attached files, provide instructional suggestions and background information and explain how this activity is aligned with the Next Generation Science Standards. The PowerPoint, available in the last attached file, shows recent trends in Covid-19 hospitalization and mortality for vaccinated vs. unvaccinated people in the US.