Serendip is an independent site partnering with faculty at multiple colleges and universities around the world. Happy exploring!
Food Webs, Energy Flow, Carbon Cycle, and Trophic Pyramids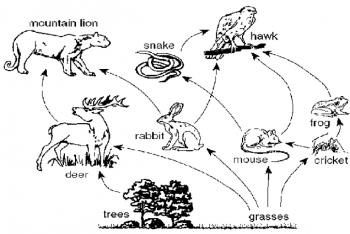 To begin this hands-on, minds-on activity, students view a video about ecosystem changes that resulted when wolves were reintroduced to Yellowstone. Then, students learn about food chains and food webs, and they construct and analyze a food web for Yellowstone National Park. Students use what they have learned to understand trophic cascades caused by the return of wolves to Yellowstone.

Next, students learn that the biosphere requires a continuous inflow of energy, but does not need an inflow of carbon atoms. To understand why, students analyze how the carbon cycle and energy flow through ecosystems result from photosynthesis, biosynthesis, cellular respiration, and the trophic relationships in food webs.
In the final section, students use the concepts they have learned to understand trophic pyramids and phenomena such as the relative population sizes for wolves vs. elk in Yellowstone. Thus, students learn how important ecological phenomena result from processes at the molecular, cellular, and organismal levels.
For virtual instruction, you can use Food Webs – Understanding What Happened When Wolves Returned to Yellowstone, Carbon Cycles and Energy Flow through Ecosystems and the Biosphere, and Trophic Pyramids.
This activity is aligned with the Next Generation Science Standards (NGSS).
Download Student Handout: PDF format or Word format
Download Teacher Preparation Notes: PDF format or Word format
Please note that Word files display differently on different computers, so you will want to use the PDF files to see the correct formatting of the Student Handout and the images for the cards for the food web in the Teacher Preparation Notes. The first file attached below is suitable for professional printing and cutting of the cards for the food web part of the activity. The second and third attached files provide an alternative, smaller deck of cards, which you can use if you prefer a somewhat briefer, simpler food web activity.
We invite comments on this Hands-On Activity and the accompanying Teacher Preparation Notes. If you would prefer to send your comments or questions in a private message, please write Ingrid Waldron at iwaldron@sas.upenn.edu.
See also a complete list of activities: Minds-on Activities for Teaching Biology