Serendip is an independent site partnering with faculty at multiple colleges and universities around the world. Happy exploring!
Evolution by Natural Selection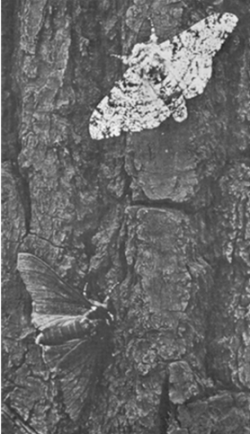 In this minds-on, hands-on activity, students develop their understanding of natural selection by analyzing specific examples and carrying out a simulation. The questions in the first section introduce students to the basic process of natural selection, including key concepts and vocabulary.
The second section includes a simulation activity, data analysis, and questions to deepen students' understanding of natural selection, including the conditions that are required for natural selection to occur.
In the third section, students interpret evidence concerning natural selection in the peppered moth and answer questions to consolidate a scientifically accurate understanding of the process of natural selection, including the role of changes in allele frequency.

Download Student Handout: PDF format or Word format
Download Teacher Preparation Notes: PDF format or Word format
The Teacher Preparation Notes provide instructional suggestions and background information and explain how this activity is aligned with the Next Generation Science Standards. (Analysis and discussion versions of the first and third sections are available at https://serendipstudio.org/exchange/bioactivities/NaturalSelectionIntro and https://serendipstudio.org/exchange/bioactivities/NaturalSelectionMoth.)
We invite comments on this activity, including suggestions for other teachers who are planning to use the activity and any questions you have. If you would prefer to send your comments or questions in a private message, please write Ingrid Waldron at iwaldron@sas.upenn.edu