Serendip is an independent site partnering with faculty at multiple colleges and universities around the world. Happy exploring!
Natural Selection and the Peppered Moth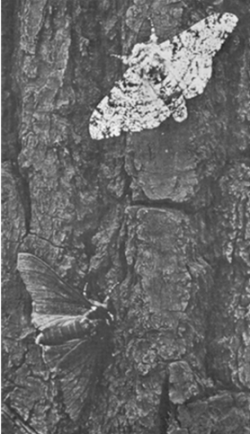 In this minds-on analysis and discussion activity, students interpret evidence concerning natural selection in the peppered moth and answer questions to consolidate a scientifically accurate understanding of the process of natural selection.
The evidence presented includes (1) the results of experiments that evaluated predation by birds on different color forms of the peppered moth in different environments, (2) the genetic basis for the different color forms, and (3) trends in both the environment and the color forms of the peppered moth in industrialized and rural regions in England and the US.
(This activity is very similar to the last section of the hands-on activity Evolution by Natural Selection.)
The Student Handout is available in the first two attached files and as a Google doc designed for use in online instruction and distance learning. (For additional instructions, see https://serendipstudio.org/exchange/bioactivities/Googledocs, especially item 7.) The Teacher Notes, available in the last two attached files, provide instructional suggestions and background information and explain how this activity is aligned with the Next Generation Science Standards.