Serendip is an independent site partnering with faculty at multiple colleges and universities around the world. Happy exploring!
Photosynthesis & Cellular Respiration – Understanding the Basics of Bioenergetics and Biosynthesis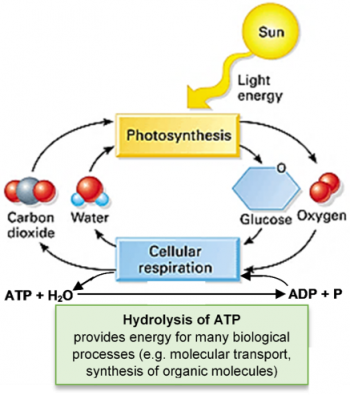 In this minds-on activity, students analyze how photosynthesis, cellular respiration, and the hydrolysis of ATP provide energy for biological processes in plant cells.
Students learn that the glucose produced by photosynthesis are used for cellular respiration and for the synthesis of other organic molecules.
The final section challenges students to use their understanding of photosynthesis and cellular respiration to explain observed changes in biomass for plants growing in the light vs. dark.
The Teacher Notes suggest three possible additions to this learning activity. (NGSS)
The Student Handout is available in the first two attached files and as a Google doc designed for use in distance learning and online instruction. (For additional instructions, see https://serendipstudio.org/exchange/bioactivities/Googledocs, especially item 7.) The Teacher Notes, available in the last two attached files, provide instructional suggestions and background information and explain how this activity is aligned with the Next Generation Science Standards.