Serendip is an independent site partnering with faculty at multiple colleges and universities around the world. Happy exploring!
Using Models to Understand Photosynthesis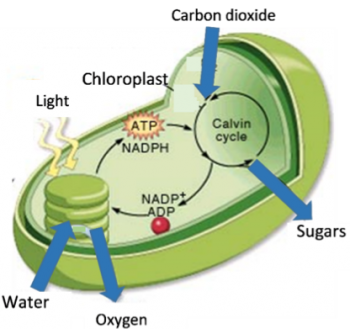 In this analysis and discussion activity, students develop their understanding of photosynthesis by answering questions about three different models of photosynthesis.
These models are a chemical equation, a flowchart that shows changes in energy and matter, and a diagram that shows the basic processes in a chloroplast.
Students learn about the role of scientific models by evaluating the advantages of each of these models for understanding the process of photosynthesis.
The Student Handout is available in the first two attached files and as a Google doc designed for use in distance learning and online instruction. (For additional instructions, see https://serendipstudio.org/exchange/bioactivities/Googledocs, especially item 7.) The Teacher Notes, available in the last two attached files, provide instructional suggestions and background information and explain how this activity is aligned with the Next Generation Science Standards.