Serendip is an independent site partnering with faculty at multiple colleges and universities around the world. Happy exploring!
Cell Membrane Structure and Function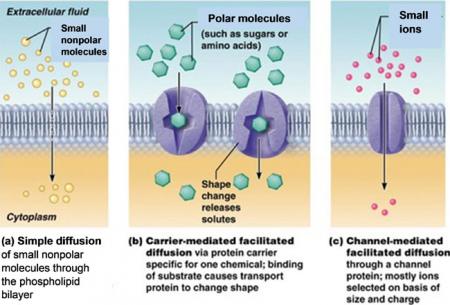 This activity includes two hands-on experiments and numerous analysis and discussion questions to help students understand how the characteristics and organization of the molecules in the cell membrane result in the selective permeability of the cell membrane.
In the hands-on experiments, students first evaluate the selective permeability of a synthetic membrane and then observe how a layer of oil can be a barrier to diffusion of an aqueous solution.
Students answer analysis and discussion questions to learn how the phospholipid bilayer and membrane proteins play key roles in the cell membrane function of regulating what gets into and out of the cell. Topics covered include ions, polar and nonpolar molecules; simple diffusion through the phospholipid bilayer; facilitated diffusion through membrane proteins; and active transport by membrane proteins.
An optional additional page introduces exocytosis and endocytosis.
Download Student Handout: PDF format or Word format
Download Teacher Preparation Notes: PDF format or Word format
The Teacher Preparation Notes provide instructional suggestions and background information and explain how this activity is aligned with the Next Generation Science Standards.
We invite comments on this Hands-On Activity and the accompanying Teacher Preparation Notes, including suggestions for other teachers who are planning to use the activity, useful preparatory or follow-up activities, additional resources or any questions you have related to the activity, or a brief description of any problem you might have encountered. If you would prefer to send your comments or questions in a private message, please write Ingrid Waldron at iwaldron@sas.upenn.edu.