Serendip is an independent site partnering with faculty at multiple colleges and universities around the world. Happy exploring!
Mitosis and the Cell Cycle – How the Trillions of Cells in a Human Body Developed from a Single Cell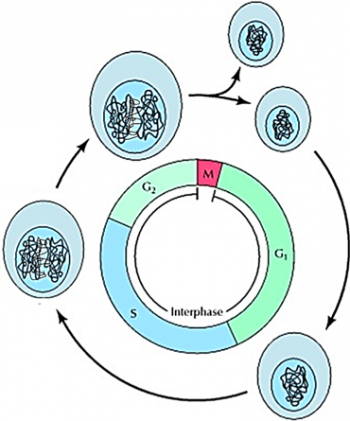 In this minds-on analysis and discussion activity, students learn how the cell cycle produces genetically identical daughter cells. They analyze how DNA replication and mitosis work together to ensure that each new cell gets a complete set of chromosomes with a complete set of genes.
To understand how a single cell (the fertilized egg) can develop into the trillions of cells in a human body, students analyze an exponential growth model for the increase in number of cells. The final section provides a brief introduction to cellular differentiation.
This activity can be used as an introduction to mitosis or to reinforce understanding of mitosis. A hands-on version of this activity is available as "Mitosis and the Cell Cycle – How a Single Cell Develops into the Trillions of Cells in a Human Body".

The Student Handout is available in the first two attached files and as a Google doc designed for use in online instruction and distance learning. The Teacher Notes, available in the last two attached files, provide instructional suggestions and background information and explain how this activity supports the Next Generation Science Standards (NGSS).