Serendip is an independent site partnering with faculty at multiple colleges and universities around the world. Happy exploring!
Some Similarities between the Spread of Infectious Disease and Population Growth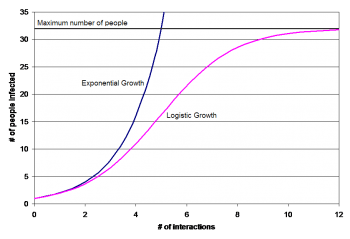 First, students analyze a hypothetical example of exponential growth in the number of infected individuals.
Then, a class simulation of the spread of an infectious disease shows a trend that approximates logistic growth.
Next, students analyze examples of exponential and logistic population growth and learn about the biological processes that result in exponential or logistic population growth.
Finally, students analyze how changes in the biotic or abiotic environment can affect population size; these examples illustrate the limitations of the exponential and logistic population growth models.
Download Student Handout: PDF format or Word format
Download Teacher Preparation Notes: PDF format or Word format
The Teacher Preparation Notes provide instructional suggestions and background information and explain how this activity is aligned with the Next Generation Science Standards.
We invite your comments and questions. If you would prefer to send your comments or questions in a private message, please write Ingrid Waldron at iwaldron@upenn.edu.