Serendip is an independent site partnering with faculty at multiple colleges and universities around the world. Happy exploring!
Brain, Education, and Inquiry - Fall, 2010: Session 3

Session 3

Class is itself an experiment in a particular form of education: co-constructive inquiry
Learning by interacting, sharing observations and understandings to create, individually and collectively, new understandings and new questions that motivate new observations
Depends on co-constructive dialogue, being comfortable sharing existing understandings, both conscious and unconscious, in order to use them to construct new ones.  Need diversity of understandings, need to be able to both speak and listen without fear of judgment.  Need to see both self and others as always in process, always evolving.
Starting where we are: from last weeks forum
For a class in which there are so many diverging views, and so much nuance to sort through, I am continually impressed at how much I agree with what so many people say. What I mean by that is simply, someone makes a comment, I make a note on how I feel about that comment, and then somebody else says what I was thinking. It really is quite a pleasure to feel that you have come up with an original, thoughtful insight and then have somebody think the same. It leads me to believe that this class will continually and collectively go to higher levels of conversation and I am psyched about it ... I do not believe that education needs justification, it is a beautiful thing in its own right, but when something is justified it somehow is viewed differently and becomes more negative somehow ... FinnWing
I think I like structure, or am I just used to it? On the basis of clarifying, to me, structure means a certain organization or direction. Maybe each of our minds have been sculpted by our early molders (primary/secondary education) to respond to structure in certain ways... that's why some of us thrive on it, and others steer away from it.  Perhaps the way to enhance the mosaic is to have less structure. Or maybe its better to say that from the beginning of one's formal education (in the form of going to school at the age of 5 or so), there should be a greater emphasis to tap into individual creativity and passion for different things. Our "system" should emphasize the importance of exploration, inquiry, excavation of something that may be buried or of something that has not even been found yet... Transforming current ideas and developing new ones.  This should begin from the earliest years, and it seems as if a child's mind is the most curious anyway. Let's enhance it. Let's congratulate them for asking questions, encourage it, reward it ... But how to transfer this idea from childhood to adulthood? Is that a valid idea when we are students of life no matter which age? Can there be a combination of structure and creativity? Can one exist within the other? ... eledford
I find myself, as you can see from my last post, wanting to defend the formal education system, not in all it's forms and, certainly, failings, but as in institution that aims to do the right thing and sometimes succeeds ... The article we read on "How people learn" helped me focus some of my thoughts by drawing my attention to two separate, sometimes seemingly competing, but actually interconnected types of knowledge taught in school- tools and facts ... It's a kind of learning that happens slowly and gradually even when properly taught, such that you could seemingly argue that you're getting nothing out of having to write a paper analyzing a character's growth in the Odyssey ... Maybe not on its own, no, but repetition is valuable for any kind of training, in this case the training to organize your thoughts, draw conclusions, express them deftly. I believe that we're all better off now for being taught that, even if at the time it was not considered fun ... there's a certain kind of discipline required that is inherently less fun than if you were able to just do what you wanted ... Abby Em
Although I agree that giving students "creative freedom" in their education can produce interesting results, I also feel like its is unfair to assume that all students want creative freedom or dislike structure. For me personally, I rigid guidelines for what I am expected to do. Take this class, for example, we were told that everyone would get a decent grade if we did everything we were told to do and to do better than that we would have to do something different, surprise ourselves. I wonder why just doing as you're told isn't enough, if you do it well? ... Armeneh
I certainly agree that asking creativity in school, and then in some way qualifying or assessing it, is a sticky realm ... When a authority figure tells a child that their painting is good, nice, or well-done, they naturally try to re-create that response, playing to our aesthetics as opposed to their own, and recreating old work as opposed to being truly and spontaneously creative ... simonec
While her example perfectly demonstrates how seemingly innocent compliments can actually negatively affect the growth of a student's creativity, similar influences can hinder student growth in what are classically considered less artistic areas of academics. It may seems innocent to tell a student that he or she is smart, intuitive, etc., suggesting that there is an innate ability. However, such suggestions lead students to believe that their academic ability is not in their control and that they either can or can't, regardless of who their teacher is or what effort they put in ... Evren
How do you know that the person telling you what to do has your (or anyone's) best interests at heart? ... jessicarizzo
I am not sure there is anything wrong with grades. I think what is wrong is the way in which we use it ... What is wrong is when we expect grades to be the only marker of what is happening. I don't think grades are supposed to measure temperament, or individual skill, or individual creativity. It is we/employers/the system who have forgotten that grades are only supposed to be a marker for how well a concept is grasped ... Kwarlizzie
If you want to quickly learn a language, an immersion class is extremely effective.  If you read often to a child, they may pick up on the skills without ever being formally taught.  Would this kind of immersion/social setting work in other subject areas?  If you took an "immersion science course," would it be possible to learn the basics of chemistry just by observing others doing problems are being put in a situation where you have to work with others to figure out problems with some of the students never having formally learned the material? ... epeck
in middle school and 9th grade, we had been taught the linear science rule of thumb which we then used in our labs. In 11th and 12th grade, however, we were taught the seriously loopy version of science, but not in a direct manner. Our teacher  ...  told us something along the lines of "when you are typing up your labs reports, make sure that in your conclusions you don't say that the results prove or disprove your hypothesis. Instead, make sure to say that the results support or do not support your hypothesis." That was all that she said on that matter ... Near the end of 12th grade Bio a student asked why we were supposed to phrase it in such a way and my teacher initially responded "because that's the way that IB tells us to" and then paused for a few moments before launching into a description of seriously loopy science. I find it strange that my teacher had the opportunity to show us the "crack" that exists in science but chose not to until the end of our 2 years in her class ... Looking back on this, it makes me think that my teacher's choice created a class that was somewhat of a contradiction. On the one hand, we had the idea drilled into our heads that hypotheses couldn't be proven. On the other hand, this idea was not used to challenge the structure of traditional science classes, rather it became part of this structure because a our teacher did not really incorporate it into our learning. At the same time in this class, we were being taught material that was specific knowledge that was deemed to be true by IB and our teacher. In that way, the encounter with seriously loopy science really only became a part of a linear science method of teaching ... ln0691
I am a fan of loopy science ... Linear science is about discovering "what is." Loopy science would argue, I think, that we can't ever be sure about what is ... I think education is divided along these lines as well. I know that I had a more linear approach to learning in high school; the teacher was the authority and you did not, unless the teacher was secretly "loopy," question them or their authority. You went through your observations, your exploration of a topic, you drew a conclusion and it was either the right one or a wrong one. There was always a "right" answer and, often, only one. If your English teacher didn't think that your paper agreed with what they said in class, you didn't do well. It was less about learning for yourself than playing into what you knew the teacher wanted. And that's not really learning ... kgould
I like seriously loopy science.  I like it's dynamism.  I prefer circles to straight lines.  I think they feel more appropriate in an age/society/culture that's basically left teleological/theological thinking behind.  And I'm glad that we've ditched/are ditching those ways of making sense of the world ... Do we end up with a new kind of dualism?  Does weightless, creative, inquisitive thought spin off into some parallel reality, an anarchic space where the goal is an endless circle of cognitive self-pleasuring?  ... How does transforming thought, or even education, become the "transformation of the world."  Should this new spirit of unfettered, purely creative thought feel remotely responsible for dealing with/helping out the existing life-world, or can the world only be a drag on it?  Or is some yet to be articulated vision of "education" that potential point of convergence?
what are some of the consequences you run into when you study something you're a part of? this is question remained with me, mainly because of the answer someone provided for it - when you study something from the inside out, you gather observations and information from the outside, drag them back in, work with them and through them, and you realise that you can change things. why is this important? because it gets rid of the feeling of helplessness ... by taking this class, we're already changing our approach to education, we're already questioning things and dissecting concepts, to find a ground we are comfortable with. we're changing the way we educate ourselves ...  i cant help but wonder what it would turn out like if we integrated culture and exxperience into the four walls of a classroom ... skindeep
What is/should be the objective of education?
Can thinking about inquiry and the brain help?
Re inquiry (from last session):
"Knowledge," in the sense of empirically based understanding, is summaries of past observations with expectations for future observations, a starting point rather than a final word.  Knowledge is always subject to revision, either based on new observations or on new stories or both.  And always has an element of uncertainty to it.  Acknowledging uncertainty in existing knowledge gives everybody the the ability to play a role in creating new knowledge.
Re education: objective is not to acquire knowledge but to acquire the means to create it?  to "discover how to participate in the transformation of the world"?
Are studies of the brain relevant?  If so, how? (see also course resources and Chapters 1,2 of How People Learn)

    

tentativeness of knowledge
looking for what one wants to see
expecting easy answers
gap between neurons and behavior
The potentiality
         

Francis Crick, 1995: The Astonishing Hypothesis: "a person's mental activities are entirely due to the behavior of nerve cells ... and the atoms, ions, and molecules that make them up and influence them".
V.S.Ramachandran, 2003: " it never ceases to amaze me that all the richness of our mental life - all our feelings, our emotions, our thoughts, our ambitions, our love life, our religious sentiments and even what each of us regards as his own intimate private self - is simply the activity of these little specks of jelly in your head, in your brain. There is nothing else"
All knowledge/understanding is a product of the brain, a construction by it, a "story" that could be otherwise?

"The truth about stories is that's all we are ... If we change the stories we live by, quite possibly we change our lives" (Thomas King, The Truth About Stories) ... and our educational systems?

Education is a changing the brain, according to one or another particular story about how/why it should be changed, so knowing something about the brain must be relevant for education?

Moving on ... Is the brain an empirical inquirer? (see How Babies Think).  A story teller?  How do the two relate?  

The brain as empirical inquirer
The sphaghetti (switchboard, "reflex") box model

Virtues

Box
Input/output relations
Historical opening to "rigor"

Problems (if "brain=behavior")

stereotopy
nodes as relays - why need them?
?
Problems of reflex model
Harvard Law of Animal Behavior
"Under carefully controlled experimental circumstances, an animal will behave as it damned well pleases"
Divergence and convergence
Sphaghetti (switchboard, "reflex") plus box model

Virtues

Box
Input/output relations
Nodes as integrators rather than relays

Problems (if "brain=behavior")

more variation, but still stereotopy
"stimulus", "response" starting to look a little less clear
?
A rethinking - boxes in boxes
The sphaghetti (switchboard, "reflex") box model

Virtues

Input/output box
Parts sort of like whole, themselves input/output boxes, follow similar rules?

Problems (if "brain=behavior")

stereotypy, still "stimulus" dependent
poor definition of "stimulus", "response"
?

Issues:

Is the nervous system a "box"? boundaries?
Does it have boxes inside it?
How do boxes "integrate"?
What's inside THOSE boxes? (boxes all the way down?)
Facing up to the stereotopy, stimulus-response problem ... freeing the box from the outside world, adding autonomy



The boxes inside boxes (with "autonomy") model

Virtues

Input/output box made up of input/output boxes
Gets rid of "stimulus", "response", replaces with "input", "output"

 

Stimulus (input) = something happening OUTSIDE the nervous system

 

Fixes stereotopy problems, permits "autonomy"


 

Nervous system may be active, change its activity, even in the absence of changing inputs
Stop thinking of nervous system as stimulus/response device

 

Problems (if "brain=behavior")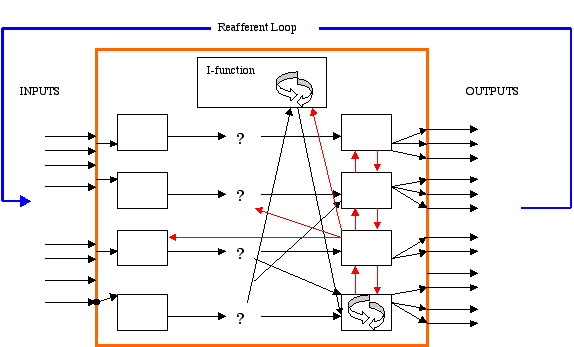 Notice loop, comparison of expectation and input, as per loopy science/inquiry
Your continuing thoughts about inquiry/brain/inquiry/knowledge construction in the forum below ....
Groups: