Serendip is an independent site partnering with faculty at multiple colleges and universities around the world. Happy exploring!
Defining "Mental Health"?
Mental Health and the Brain:
A Discussion
Fall, 2008
What IS "Mental Health"?
Our first session and resulting on-line forum discussion set a context for our continuing conversation based on institutional characterizations of the state of mental health care and our own experiences with it. Among a number of issues that raised is the question of what exactly one means by "mental health." We'll explore that question further this week. To get started
Write one paragraph that gives, as best you can at the moment, what you think is a clear and useful definition of "mental health" and post it as a reply to the question posed in the on-line forum below. Don't worry about its being "right." You will have ample opportunity to suggest revisions to your definition (and other peoples') during the rest of the semester.
Do a quick first time reading of the three papers linked to below. Do this AFTER you have written and posted your one paragraph definition. The upcoming session will consider the extent to which the three readings do or do not provide reasons to change existing definitions of "mental health" and point directions in which such revisions might perhaps be usefully made. Your thoughts about the papers needn't be posted now; you should include them in the forum below as part of our continuing on-line discussion after the Monday session.

Readings for this week
Discussion

The Problem

Defining "mental health": a solution?
Is the "medical model" a good take off point for thinking about/trying to define "mental health"?
Contexts in which the medical model evolved/is most effective:
relatively simple cause/effects relationships (eg. the "germ theory")
near universal agreement on what constitutes a "problem" to be fixed
strong correlations between cause/symptom/treatment which in turns makes isolation and categorization ("diagnosis") productive
presumption that observations by external observers ("objective") are more useful/reliable than internal ("subjective") experiences
usefulness of transferring personal authority to "expert" other
"Mental health" phenomena
""What this is saying is that all treatments work, at least for some people, and have serious risks for others," he said. "It's a trial-and-error process" to match people with the right medication." ... NYTimes, 15 Sept 2008
"Fifteen years ago his condition would probably not have been called bipolar disorder, and some doctors might hesitate to diagnose it in him even now, preferring other labels that more directly address James's rage and aggression: Oppositional Defiant Disorder (O.D.D.) or Attention Deficit Hyperactivity Disorder (A.D.H.D.) — both of which have been applied to James as well." NY Times Magazine, 14 Sept 2008
complex cause/effect relationships
cultural and individual variation, both as normative factors and as causes
weak correlations among causes/symptoms/treatments
individual/subjective factors play prominent roles
diminished personal authority may itself be a problem
In search of some alternative starting points/models for thinking about "mental health" (and perhaps a new definition of it?)
Child rearing
Education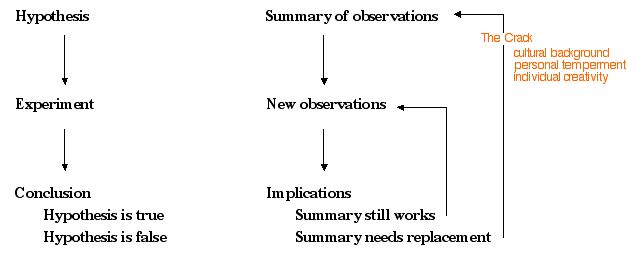 One never gets it "right," but one can always get it less wrong
Wherever one is at any given time, one has the resources to get it less wrong
What is important is not what one can't do but what one can do

Getting it less wrong is best done by borrowing from/contributing to others getting it less wrong in their own ways
Individuals and cultures influence each other
"Mental health" = the capacity to grow/change/evolve/create and recreate meaning for onself and others?
Does this help with the stigma problem? With the culture problem? With other problems? What problems does it not help with? What new problems does it create? Put your thoughts from/following today's discussion in the on-line forum below.