Serendip is an independent site partnering with faculty at multiple colleges and universities around the world. Happy exploring!
Brain, Education, and Inquiry - Fall, 2010: Session 5

Session 5

Class is itself an experiment in a particular form of education: co-constructive inquiry
Learning by interacting, sharing observations and understandings to create, individually and collectively, new understandings and new questions that motivate new observations
Depends on co-constructive dialogue, being comfortable sharing existing understandings, both conscious and unconscious, in order to use them to construct new ones.  Need diversity of understandings, need to be able to both speak and listen without fear of judgment.  Need to see both self and others as always in process, always evolving
There is a discussion on msnbc right now that somewhat resembles our conversation last week in class.  ... There is definitely no consensus among the audience on any of the topics, which is making the conversation incredibly rich ... Angela DiGioia
[Last week's] class seems to be a potential turning point in the semester. As a class, we aired frustrations, were introduced to a model of the brain (i.e. the nervous system), and we seemed to not get stuck on points as much as in previous classes. That is all very positive and exciting ... FinnWing
Recognizing and accepting that we have nothing to work with but ourselves and each other, our past experiences, our constructions from them, and the resulting dreams for the future, seems to me not only an adequate but an appealing place to work from (cf Writing Descartes and Fellow travelling with Richard Rorty).  We may not ever get it "right," but we will always have open possibility in front of us and all the needed wherewithal to contribute meaningfully to shaping what comes next.  Maybe that's the point of education?  to enhance peoples' confidence in and abilities to contribute to shaping the future?  Maybe "postmodernism" isn't the end state but rather a useful take-off point, allowing us to make better use of human diversity for conceiving and trying to implement possible futures? ... PG  
Continuing from where we are: from last weeks forum
Is understanding the brain not just understanding people? ... FinnWing
Will the simple mastery of the brain truly drastically improve a teacher's effectiveness? ... D2B
I am surprised that more teachers do not have some knowledge of the biological side of the brain and the cyclical process that is constantly taking place in their students' brains ...I am also wondering how so many teachers, without previous training as a biologist or neuroscientist, just "get it" ... the ones whose lesson plans and activities are able to stimulate each part of the brain to maximize the output produced (whatever that may be) and generate new inputs continuously ... Angela DiGioia
I don't think that it is absolutely necessary for [all] teachers to know how the brain works formally because I think that sort of knowledge is best obtained through experience ...I think teachers who "get it", get it from their daily and constant interaction with their students. While they are teaching, they are simultaneously learning and forming their own understanding of the dynamics of the classroom and how their students fit into it ... L Cubed

In a linguistics course I took last year, the teacher pointed out that although he knew a great deal about linguistics, he was not a better orator or interpreter of speech than anyone else - in fact, sometimes his knowledge hindered his abilities ... epeck
If teachers don't need to be scientists, then who, in the educational equation, needs to be?  what if, perhaps, the STUDENTS were the scientists? perhaps a greater understanding of how our minds work, how we perceive information, and the diversity of ways that we are capable of learning would inspire kids are a young age to be involved with school, and discourage feeling of inferiority in the classroom. With a greater understanding and internalization of this fact, that we are all constantly students of the world, and that by just observing and participating our brains are literally growing, taking in information and exercising, inclusion in educational settings that often are stress inducing would be more rewarding ... simonec
The fact that the nervous system is capable of moving on its own is quite fascinating. I'm interested to find out more implications of this knowledge ... I'm curious whether there are "form-forming" parts of our brain? As noted by Gestalt psychologist and evident in our daily experience, we tend to see our sensual data in organized forms: shapes instead of linear elements and colors instead of pixels. ... LinKai_Jiang
anticipating a discussion to come
I don't think it's realistic to assume that just because we're seeing new patterns of brain activity [as a result of the computer age], that those  are "bad" or deviate from some original norm. I'm not sure that there realistically is a norm to make reference to: hasn't the brain been evolving continuously, just as we have? Won't it continue to do so? ... bennett
If our brain is acting on the world as much as reacting to the world, we have less reason to feel like cogs in a deterministic machine ... [but] I wonder if anyone else was simultaneously a little awed and a lot repulsed by this pretty gruesome, science-fiction image of the brain in the jar... outputting, all by itself.  I wouldn't ordinarily think of that activity as "acting" on the world.  Little sparks are being emitted.  And the brain runs some "tests" to see if those sparks have the anticipated effects... but that ...  means always taking baby steps, and always playing catch-up.  No room for boldness or vision there ...  Because the brain isn't really asking questions... or if it is, it's not choosing what questions it wants to ask, or articulating those questions itself ... jessicacarizzo
I am still wondering where thoughts fit into the nervous system.  I recognize that thoughts are internal and are therefore could be thought of as part of the more internal workings of the nervous system, but several ideas discussed in psychology lead me to think of ideas as an input, or at least as an output that then cycles back and is an input (like how moving your arm may be output, but seeing it and feeling it move is input).  Once we are aware of a thought, isn't it input? ... Basically, I'm unclear on how to distinguish input and output.  The more I think about it, the less I am able to distinguish the two ... epeck
Perception (and knowledge) as construction
Brain as loop, active empirical inquirer
How does construction occur? 
What is input/output/thought?
What is "getting it" as opposed to "learning"/knowing something?
What and where is "boldness/vision," "choosing ... questions [one] wants to ask, or articulating those questions [onself]"?
Implications for education (to date):
Stop presenting understandings as "right," "definitive"; present instead as foundation for developing new understandings? 
Diversity in classrooms an asset rather than a problem? 
Ability to see things in multiple ways a virtue, a desired result of education?
Inquiry skill is present at birth, rather than dependent on maturation/education (How Babies Think)
????


Adding to our model/story of the brain
Brain not a stimulus response machine
Harvard Law of Animal Behavior
"Under carefully controlled experimental circumstances, an animal will behave as it damned well pleases"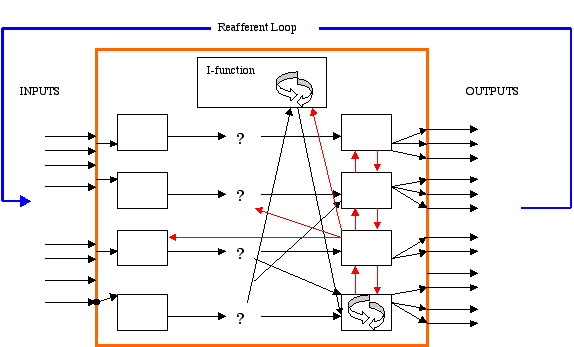 Notice loop, comparison of expectation and input, as per loopy science/inquiry
Connect to "creativity," willingness/ability to try things out, to do things without knowing exactly what will happen, to take risks, is inherent in leeches, frogs, humans (unless ... )
Finding all this and more in physical structure of the nervous system

Neurons and their interconnected organization
Sensory neurons, motoneurons, interneurons
All signals are action potentials
Neuronal integration, excitation, inhibition, spontaneity (see The need to entertain the inconceivable and looping)
Boxes and cables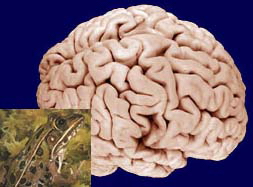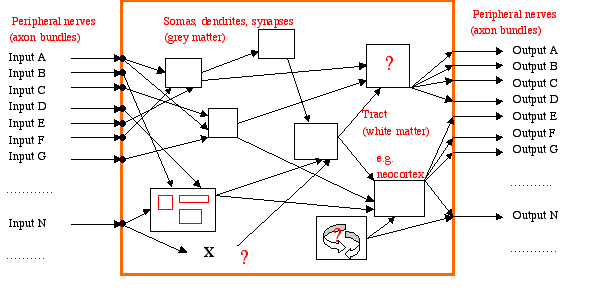 Individual variation  (more) and continual variation - remember neocortex
Topographic organization: the brain as a distributed system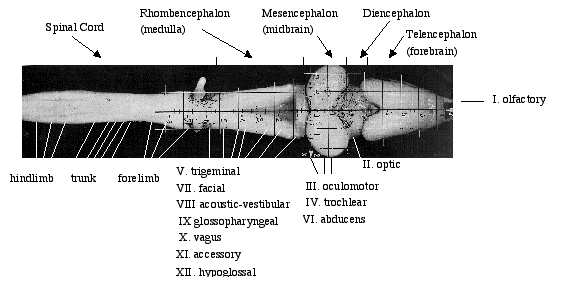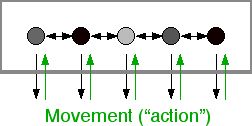 More on distributed systems, simulation, relevance to education
Beginnings of sensation/perception: pattern of action potentials in sensory neurons; action: patterns of action potentials in motoneuron; thinking: patterns of action potentials in interneurons
The bipartite brain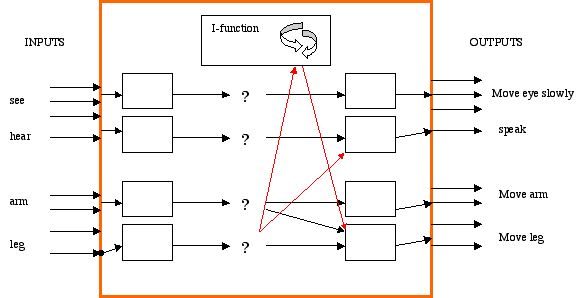 Relevance for thinking about constructedness of world but also of self: pain, phantom limb pain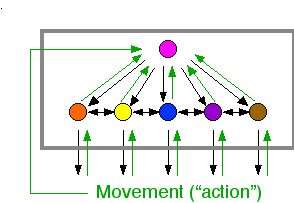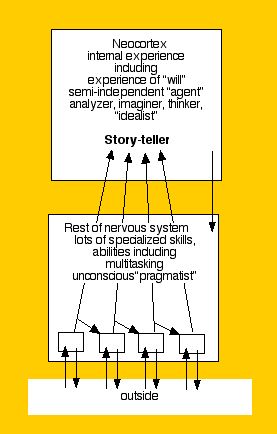 More on bipartite brain
Blindsight, dissociative fugue, skilled athletic performance
Dreaming, sleep walking, locked in syndrome
Interactions of cognitive unconscious (Marvin Minsky, Society of Mind) and story teller
Thoughts, feelings, aspirations not parallel to cognitive unconscious but rather derived from it
Emotion, intuition not distinct from thought but a part of it (Antonio Damasio, Descartes' Error)
Internal co-constructive dialogue/inquiry as well as external
Internal conflicts, added capabilities: to conceive beyond experience
Paul Bloom, First Personal Plural (see also It take all kinds to make a brain)
Implications for education?
Your continuing thoughts about diversity, distributed systems, bipartite brain in the forum below ....
Groups: