Serendip is an independent site partnering with faculty at multiple colleges and universities around the world. Happy exploring!
Brain, Education, and Inquiry - Fall, 2010: Session 4

Session 4

Class is itself an experiment in a particular form of education: co-constructive inquiry
Learning by interacting, sharing observations and understandings to create, individually and collectively, new understandings and new questions that motivate new observations
Depends on co-constructive dialogue, being comfortable sharing existing understandings, both conscious and unconscious, in order to use them to construct new ones.  Need diversity of understandings, need to be able to both speak and listen without fear of judgment.  Need to see both self and others as always in process, always evolving.
First web paper due Monday, post and bring hard copy to class.  See Course organization for details. 
Starting where we are: from last weeks forum
While I enjoy the romanticism of not having a destination in mind, I still feel the logical imperative to construct a coherent narrative of the "romanticism", of the sense of "lost". I'm finding it hard to articulate all the ideas here into some kind of coherence. Maybe my brain will work it out somehow ... LinKai_Jiang
A world without rules is something we resist from our very core, both from fear and because, as inherently finite, limited beings, we want our world to be more like us so that we have a place in it ... We don't want to be floating in infinity with no ground beneath us ... Abby Em
I feel like we're going in circles. We are saying things that without a doubt, make a whole lot of sense, but it's all been said before ... We already identified in class that there are no objective truths but doesn't that contradict precisely what we're trying to in this class - find an overarching, so-to-speak, ideal/perfect system of education? ... Maybe its just my interest in postmodernism that's making me say this, but the world is so diverse and each individual has such a different way of thinking, how will be ever be able to agree upon what society should be like? ... Amenah
If education is a means of teaching us how to perceive, or TRY to perceive, the same things as other people, to come to a consensus, is that useful? Should we be reaching for a consensus? ... kgould
Should the objective of education be to bring everyone to the desired outcome? Or should it be to allow everyone to progress their own outcomes? ... This made me think of competition. I've always thought that a little competition was a good thing. If different goals are set to provide different outcomes, do we lose competition? ... eledford

Imagine if all classes were structured in the same way as this class. At first, this made me slightly uncomfortable and nervous because I am someone who secretly likes knowing exactly what's expected of me in a class and a specific rubric for what I have to do to get a good grade ... Turns out, there is a fairly specific structure to this class. The difference is, the structure is not oppressively exhausting.  The professor acts as a facilitator ... rather than merely transferring information to us to memorize and then testing us on the material that was never actually put into practice or absorbed ... In the transfer model of teaching, the key step in the learning process is missing. How could the students be expected to use the material that they are being taught in real life if they never learn how to apply it? ... Angela Digioia
Speaking of the class loop, I like the practice. I am receiving a lot of interesting insight from across the board. Reading through the posts this week, there is clearly some deep thought going on about education, structure and pedagogy. My addition to the loop this week, in contrast, feels minimal. Minimal in the way that spending the day in your slippers reading a novel is minimal. Not like it's a bad thing, but more just a cathartic balance when things get really serious ... FinnWing
Since we seem to have classified this course as "somewhat unstructured," I'm questioning why I've been writing these responses in such a structured way, when my thoughts after class are anything but.  Am I just trying to add structure?  ... epeck
maybe structure isnt bad. but structured structure - the holding on and incessant need for structure is what causes claustrophobia. if structure existed and loose boundaries, maybe we'd be alright ... skindeep
imposing structure is, I think, always going to involve a tradeoff  ....  Because the other, totally neutral half of reality is chaos... and we have to find a way of allowing this in, rather than always assuming that we have to tame or subdue the "destructive" powers of chaos by strangling it with structure.  Since if there is no empirical reality, our impulse to impose the structure that will allow us to feel like we've got it all figured out, like we really are the "masters and possesors of nature," should in fact be viewed as the destructive or hindering impulse at work here.  An attempt to indulge our control-freak anxieties... when the only way to palliate them is to let that "need" for control go ... jessicarizzo
if a teacher fails to acknowledge the diversity of their students than they fail to teach [effectively] ... "Is there only one way to survive?" I think that society likes to make us think that the concept of survival or the means by which we survive is universal, but is it? I don't think so ... L Cubed
Many students chose to write about very obvious topics and didn't see why anyone should question the topic or ask them to back it up with facts or evidence. This brought me to think about the exercise we did in class when Prof. Grobstein showed us images within images. Almost everyone at first glance, individually saw one thing and with further concentration and scrutiny brought themselves to see a different image. I wanted to draw upon this and create a similar dynamic with my group of students to help them see not only what an argument was but also the value of arguing for your perception of something ... D2B
If a person's brain is able to make multiple associations or constructions within a given period of time when viewing a particular figure, object, does that translate to the person being more tolerant and flexible with perceiving, listening, understanding and even seeing other peoples viewpoint or perspectives on constructions of the like? ... mmc
what does it mean to "know something" about the brain? It seems reasonable to assume that we need education to discover anything about the brain, so we must first have education to know things about the brain. And the things we know about the brain are, in turn, shaped by the frameworks we have acquired through our education. So the relationship, it seems, is potentially more complex than subjective knowledge about an object ("the brain") -- a scheme which only operates in one direction ... bennett
If my brain is physically wired in a certain way, with certain chemical reactions causing me to bicker with my sister, what can I do to change that? ... Evren
the brain is often made out to be a hinderance to the creative process. The brain has come to represent logic and reason whereas the heart has come to represent emotion and creativity and generally, people are not willing to acknowledge any overlap between the two.  After our discussion last class, however, it seems like this perception has some faults ... Seriously loopy science requires creativity in the sense that many perspectives lead to a greater understanding of a question and when one perspective leads nowhere, it is important to look at the problem from another perspective. This is the basis for all creativity, I think. What is creativity if not diverse perspectives? ... ln0691
What is/should be the objective of education?
Can thinking about inquiry and the brain help?
Re inquiry (from earlier session):
"Knowledge," in the sense of empirically based understanding, is summaries of past observations with expectations for future observations, a starting point rather than a final word.  Knowledge is always subject to revision, either based on new observations or on new stories or both.  And always has an element of uncertainty to it.  Acknowledging uncertainty in existing knowledge gives everybody the the ability to play a role in creating new knowledge.
Re education: objective is not to acquire knowledge but to acquire the means to create it?  to "discover how to participate in the transformation of the world"?
Adding in the brain
All knowledge/understanding is a product of the brain, a construction by it, a "story" that could be otherwise?

"The truth about stories is that's all we are ... If we change the stories we live by, quite possibly we change our lives" (Thomas King, The Truth About Stories) ... and our educational systems?
Knowledge/understanding is always tentative, not only because of cultural variation but, at a deeper level, because perception itself is never definitive
Implications for education (to date):
Stop presenting understandings as "right," "definitive"; present instead as foundation for developing new understandings? 
Diversity in classrooms an asset rather than a problem? 
Ability to see things in multiple ways a virtue, a desired result of education?
????

Moving on ... Is the brain an empirical inquirer? (see How Babies Think).  A story teller?  How do the two relate?  

The brain as empirical inquirer
The sphaghetti (switchboard, "reflex") box model

Virtues

Box
Input/output relations
Historical opening to "rigor"

Problems (if "brain=behavior")

stereotopy
nodes as relays - why need them?
?
Problems of reflex model
Harvard Law of Animal Behavior
"Under carefully controlled experimental circumstances, an animal will behave as it damned well pleases"
Divergence and convergence
Sphaghetti (switchboard, "reflex") plus box model

Virtues

Box
Input/output relations
Nodes as integrators rather than relays

Problems (if "brain=behavior")

more variation, but still stereotopy
"stimulus", "response" starting to look a little less clear
?
A rethinking - boxes in boxes
The sphaghetti (switchboard, "reflex") box model

Virtues

Input/output box
Parts sort of like whole, themselves input/output boxes, follow similar rules?

Problems (if "brain=behavior")

stereotypy, still "stimulus" dependent
poor definition of "stimulus", "response"
?

Issues:

Is the nervous system a "box"? boundaries?
Does it have boxes inside it?
How do boxes "integrate"?
What's inside THOSE boxes? (boxes all the way down?)
Facing up to the stereotopy, stimulus-response problem ... freeing the box from the outside world, adding autonomy



The boxes inside boxes (with "autonomy") model

Virtues

Input/output box made up of input/output boxes
Gets rid of "stimulus", "response", replaces with "input", "output"

 

Stimulus (input) = something happening OUTSIDE the nervous system

 

Fixes stereotopy problems, permits "autonomy"


 

Nervous system may be active, change its activity, even in the absence of changing inputs
Stop thinking of nervous system as stimulus/response device

 

Problems (if "brain=behavior")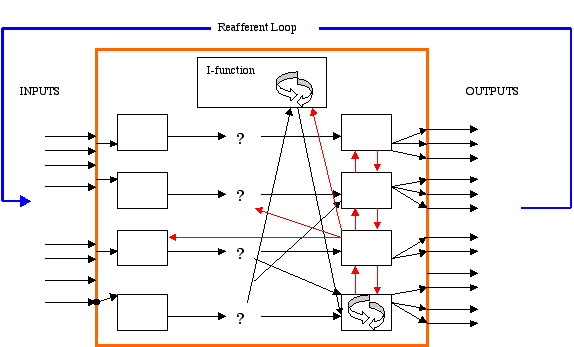 Notice loop, comparison of expectation and input, as per loopy science/inquiry
Finding all this and more in physical structure of the nervous system

Neurons and their interconnected organization
Sensory neurons, motoneurons, interneurons
Boxes and cables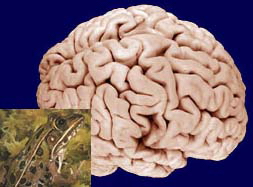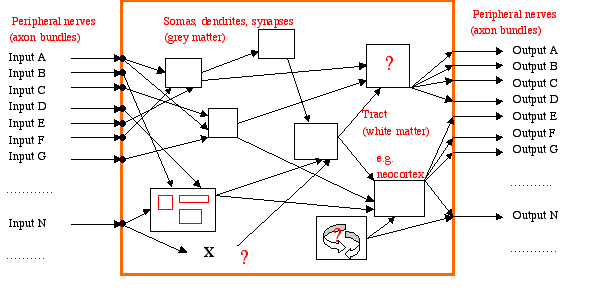 Individual variation  (more) and continual variation - remember neocortex
Topographic organization: the brain as a distributed system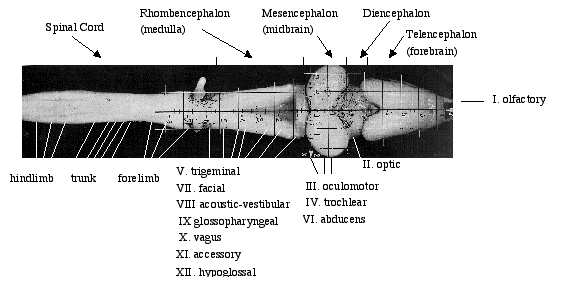 The bipartite brain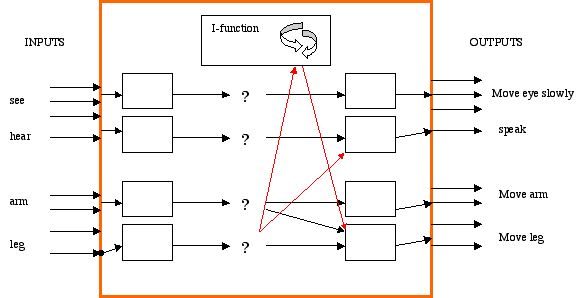 Relevance for thinking constructedness of world but also of self: pain, phantom limb pain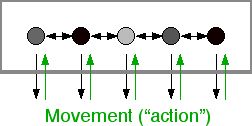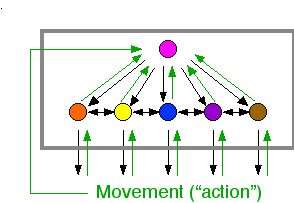 Your continuing thoughts about diversity, distributed systems, bipartite brain in the forum below ....
Groups: