Serendip is an independent site partnering with faculty at multiple colleges and universities around the world. Happy exploring!
Diffusion
FROM RANDOM MOTION TO ORDER: DIFFUSION AND SOME OF ITS IMPLICATIONS
"...we know all atoms to perform all the time a completely disorderly heat motion, which, so to speak, opposes itself to their orderly behavior and does not allow the events that happen between a small number of atoms to enrol themselves according to any recognizable laws. Only in the co-operation of an enormously large number of atoms do statistical laws begin to operate... All the physical and chemical laws that are known to play an important part in the life of organisms are of this statistical kind; any other kind of lawfulness and orderliness that one might think of is being perpetually disturbed and made inoperative by the unceasing heat motion of the atoms..." -Erwin Schrödinger, What Is Life?, 1944
Most people think of stability and order as the norm, the way things are... and of movement and change as needing some explanation. Imagine a quiet lake in the forest, so still that the trees on the banks reflect downwards in it like a mirror. If a fish jumps or you throw a pebble or the wind blows, the water ripples distoring the reflected image. Undisturbed, it seems absolutely motionless, with a stability and order like glass.
In fact, as Schrödinger pointed out, it is not movement and change which requires explanation, but rather stability and order. What appears to us as a placid lake consists instead of an enormously large number of very, very small water molecules all in continual motion, every one moving relatively independently of every other one.
That this is so not only of a lake, but of every other entity (including ourselves), represents a major advance in human understanding brought about by physicists in the late nineteenth and early twentieth centuries. It is an understanding with wide-ranging, and still to be explored, implications for physics, chemistry, and biology, and with at least metaphorical implications for thinking about a host of human phenomena. What phenomena of stability and order that we think we understand might better be understood in terms of underlying continous changes of constituent parts? What new insights might follow from reorienting one's thinking in that way?
Let's take a closer look at a simple example of an apparently stable and orderly system, and the underlying continuous motion of its constituent parts. How can continuous motion lead to an appearance of stability and order? What properties do such systems have that aren't present in systems that display order and stability in the absence of movement? What properties do systems displaying "dynamic order" have that aren't present in systems displaying "static order"?
You can look into these questions below and make your own observations using the applet here (opens in a new window).
Starting simple: from one moving part to many
To appreciate stability and order based on underlying change, one first has to believe there are things changing, and then to see that certain kinds of stability and order emerge as the number of changing things increases ("statistical laws begin to operate", as Schrodinger put it).
Let's start with a single moving particle in a large box. A single particle goes about its own business, following a straight line until it hits a wall of the box, bounces off, and follows another straight line until it hits another wall. That's not so suprising or interesting. What's more significant for us is that sometimes there is a particle in one half of the box and no particle in the other, and vice versa. The "percentage" of total particles in each box changes intermittently. In the case of a single particle, each side changes from 0% to 100% as the particles crosses from one side to the other.
Click clear, then move the number slider to 1 and click add particles.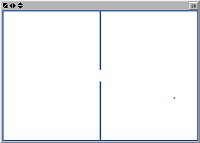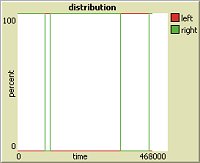 What do you suppose happens as we add more and more particles (obeying the rule that the intial trajectories of each are different)?
There continue to be fluctuations in the proportion of particles on each side, as individual particles follow their own trajectories, but the fluctuations are not as large (we never see all the particles on one side) and the state of the box over time remains close to equal proportions of particles on both sides. You should convice yourself that this gets even more so as one further increases the number of particles involved.
To add more particles, increase the number slider and then click on add particles.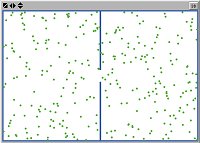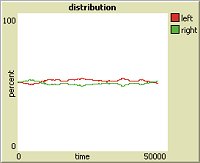 Its important not only to realize that adding things each of which changes can make some other things change less, but to have a feeling for why that happens. If each of the particles followed exactly the same trajectory, it wouldn't happen. Instead, we'd still be in the situation of abrupt changes from all the particles on one side of the box to all the particles on the other. What's important is that the particles follow different and unrelated trajectories. This means that, at any given time, each has the same probability of being in either the left half or the right half of the box. And so, on average, one finds roughly half on one side and roughly half on the other at any given time. What's staying more or less constant on each side of the box is not any particle, each one is still moving back and forth, but rather the collective property of the proportion of particles (whichever ones) on one side of the box and the other. That's Schrödinger's "statistical kind of lawfulness and orderliness". And, far from it "being perpetually disturbed and made inoperative by the unceasing heat motion of the atoms", it very fundamentally depends precisely on that motion.
To follow a single particle, click on follow/don't follow. You can get back to the regular view by clicking on the same button again.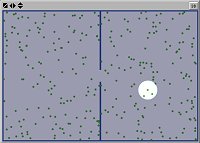 So...
For some things (all?) that appear stable, there is underlying motion and change.
The motion of water molecules in a quiet lake occurs over time and space scales outside the range which our nervous system are capable of detecting. Within our range, there is only the average ... and hence apparently unchanging behavior.
For such things, it is as much apparent stability that requires explanation as it is change, since underlying components are always changing.
It is not only quiet lakes, but also chairs, tables, people, and so forth that don't seem to change (to varying degrees). Why is that? Are they all examples of the same kind of stability or are there different kinds?
For some things, apparent stability results from statistical averaging of ongoing changes in the parts. For this to happen, its important that the parts be, in some ways, doing different things.
Lots of things doing the same thing will not reduce and may even enhance some kinds of more global changes. For order, of the kind being considered here, it is critical that different things be changing in different ways.
So, we have an easy way to get at least roughly equal numbers of particles on both sides of the box. Why would we want that? Well, we might or might not, but, in any case, diffusion (the technical name for what we've started exploring) happens all the time, and its a good idea to know why. Put a gas into one side of a box, and it fills both sides equally ... open a bottle of perfume and it can shortly be smelled throughout a room ... put a spoonfull of cream in a cup of coffee and the whole cup eventually gets lighter, even if you don't stir it ... and so forth. We'll see, as we go on, that there are a whole host of physical, biological, and even social phenomena which make sense in terms of diffusion. Equally importantly, what we've got to this point is a basic driving force, the second law of thermodynamics, which says, at a very fundamental level, why things change: they go naturally and inevitably from statistically less probable to statistically more probable states. As we'll see, it is this movement which life captures and makes use of to move itself it the opposite direction, from less probable to more probable, from disorder to all the organized complexity we think of as life.