Serendip is an independent site partnering with faculty at multiple colleges and universities around the world. Happy exploring!
Brain Behavior Institute - Session 15
| | | | |
| --- | --- | --- | --- |
| | | Session 15 | |
From the Input Side to Story
Antoinette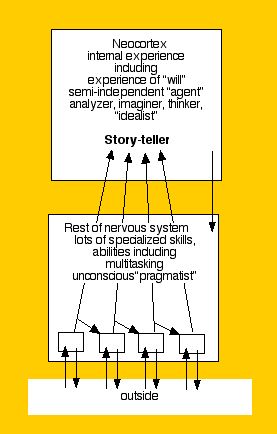 Everything you have been discussing about how the brain works, the box in the box, and emergent learning is displayed in what the scientists at NASA are doing. Creatively, they have envisioned things and perceived things as they would be but aren't yet! ... Judith
If just once while Paul was banging on the table and asking, "What is this?" his hand passed smoothly back and forth through the table----would any of us be at all surprised at this point? For me there is something really exciting about bumping up against my presumptions and discovering a whole new "playground" for the mind ... Deb
We love to be tricked, fooled, have our emotions strung out as long as we land solidly on our feet after disembarking the ride ... Joyce

One of the most enjoyable lessons I implemented during a summer forensics program, each student had to become an eyewitness ... We began to realize that many of us had constructed what was real to us and we even filled in what was missing in our mind ... Many of the students were surprised in the assumptions they made and how incorrect they could be. We could all use an exercise like this to show how no one is completely right or wrong and how our brain can/will change a story to fit our experiences or view points ... Kathy
Why has Paul devoted all the time and energy (two sessions worth) to the senses? Is it simply to once again shatter my understanding of the world? To once again examine my assumptions? I already have accepted that everything I thought I knew is open for question. I have also accepted the idea that the brain constructs our reality. I'm still searching for a new understanding or a new story to emerge from these two days of work ... Jill
The balance of stories model avoids both extremes and aims to keep alive throughout the class the exictement and openess with which the teacher and the students come to it ... Bharath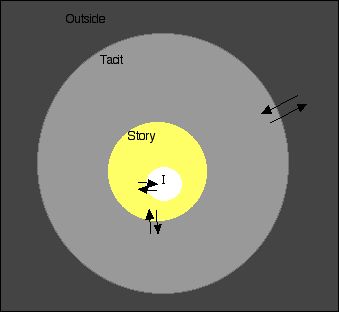 What you see isn't what's "out there"; its an "informed guess" made by your cognitive unconscious based on presumptions there about what is important to you.
Different people see (hear/smell/taste/etc) different things
Your nervous system can respond to things without seeing them (blindsight). Hence perceiving, like action, reflects a bipartite brain - "Consciousness" is not only an "I-function" but a more general "story teller"
Story of "I" allows you to do things you couldn't other wise do
Self as object in bigger world
Story of "outside there" allows you to conceive alternatives
Ambiguity, "crack" in bipartite brain, gives one "agency" - Enhance agency by developing the skill of withholding judgement, conceiving alternatives - That the point of an emergent classroom?
For the forum area ... thoughts about ambiguity, agency, parallels between brain organization and experiences in the classroom?