Serendip is an independent site partnering with faculty at multiple colleges and universities around the world. Happy exploring!
Sun-Kissed Acres: Growing Beauty, Stories of a Garden in a School Community

This project is based on the way urban gardens have made Millcreek a better community. We asked the people in the community their opinions about the beauty of nature in their neighborhoods and created a documentary. We need people who are willing to work and dedicate time to care for the garden to make it a more colorful and welcoming place. We hope to inspire more youth to better engage in their communities and become active agents of positive change.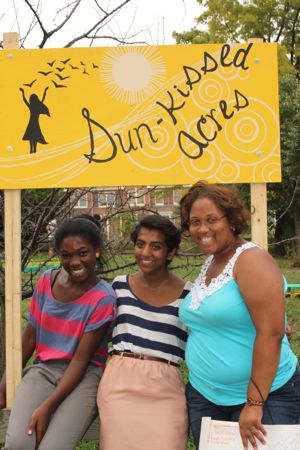 Who: We are three students, one from Bryn Mawr College and two from Parkway West High School
What: Growing out of our experiences in an environmental studies course last spring, we worked together to envision and design an urban garden in the Mill Creek Community of West Philadelphia. We met throughout the summer to weed, compost, and plant the garden. throughout this process we were able to make meaningful connections with people in the community which we were then able to create a documentary that talked about what beauty means to different people in the area.
How: To plant the garden we had to figure out our access to resources. Our biggest connection was the Urban Nutrition Initiative. We were able to use extra plants from their greenhouses and leftover compost. But luckily, whoever was working on the garden before us had done a great job setting the groundwork so we had more to work with than we anticipated at first.
To connect with community members and to honor their oral histories, we met with different members of the community and tried to get an idea what beauty, nature, and community meant to them. Through this, it was our goal to foster and facilitate that idea of beauty in our garden so that it wouldn't be an imposition but instead an outgrowth. We learned that our work was a way to honor people that worked before us. They had created something that people in the community enjoyed and it became our job to bring it back.
Related Links
Where we started- finding our roots in the Millcreek community: http://parkwayurbangarden.weebly.com
Vlogs documenting our experiences: http://www.youtube.com/user/sunkissedadventure?feature=results_main
Our experiences through pictures, videos...and some words: http://sunkissedadventure.tumblr.com
Groups: