Serendip is an independent site partnering with faculty at multiple colleges and universities around the world. Happy exploring!
Margaret Price's Mad at School: Rhetorics of Mental Disability and Academic Life

I just started reading Margaret Price's Mad at School: Rhetorics of Mental Disability and Academic Life.   It came out a few weeks ago and I quickly ordered a copy on Amazon after a professor at Haverford who specializes in disability studies suggested that it would be an interesting read for my independent study.  Price is a professor of English at Spelman College and is interested in expanding disability studies to include those with mental disabilities or what she also calls "psychosocial disability" (a term she likes because "it bumps psych (soul) against social context", bridging the mind and world).  She is particularly interested in how the academy comes to exclude those with mental illnesses.  The book relates to a lot of what I (and the other Active Minds presidents) have been talking about with Anne in regards to mental illness and how the academic structure of colleges and universities often exacerbates students' mental health problems.  For those who are suffering with a mental illness, coming to class, completing assignments by deadlines, or contributing to class discussions can be difficult. Price writes, "Academic discourse operates not just to omit, but to abhor mental disability—to reject it, to stifle and expel it" (8).  Like much of the work done in disability studies suggests, she tells us we must not think of certain individuals as having a problem, but look at how the institution itself may be faulty.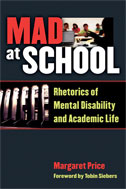 Margaret Price, Mad at School: Rhetorics of Mental Disability and Academic Life
She suggests that academia is full of what she calls kairotic spaces, "less formal, often unnoticed, areas of academe where knowledge is produced and power is exchanged" (21).  These include the classroom atmosphere, where both presence and participation are often required, as well as conferences and job searches, where academics are expected to behave in a particular way, to follow the "rationale" of intellectual thought and conventional codes of social behavior in both their teaching as well as conversations with colleagues. 
When we think of the academy, we imagine liberal ideals and a longing for diversity and inclusion, rather than engagement in oppression or exclusion.  Doesn't the academy prefer a multiplicity of minds that see various concepts and ideas from different perspectives?  Wouldn't it be boring and perhaps even stifling if everyone were taught to think in the same way, to develop the same types of arguments, to employ the same organizational frameworks for expressing their thoughts?  Price suggests that the structure of the academic essay with its demands for "coherence", logic, and rationale doesn't allow for more "active minds" who may not be able to articulate their thoughts in the way the academy demands.  She asks, "…does the demonstration of coherence indicate a stronger mind?" (6).  What if students could start submitting pictures instead of essays, bullet points instead of paragraphs, or oral presentations instead of a final paper?  Price asks, "What transformation would need to occur before those who pursue academic discourse can be 'heard' (which I take to mean "respected") , not in spite of our mental disabilities, but with an through them?" (8).  Like the "super crip" stories we've seen in the media that feature the disabled individual who overcomes his or her disability (a legless man running the marathon, etc), what if we thought of students with mental illnesses not as merely triumphing their illness by surviving the academy, but as using their illness to deepen their own work?  In the classroom, we often consider different genders and races to add diversity to the discussion, but what if someone's experience with bi-polar disorder, depression, or anxiety, could illuminate academic conversations?   
More to come as I continue to read Mad at School during break!