Serendip is an independent site partnering with faculty at multiple colleges and universities around the world. Happy exploring!
2014 Tri-Co Environmental Studies Workshop: Finding the Path in Praxis

Finding the Path in Praxis (Jody Cohen and Anne Dalke)
Session II @ the 2014 Tri-Co Environmental Studies Workshop
Jody: Harkening back to the beginning of the day when we talked about crossing identity politics with environmental concerns in our new Esem, we want to delve further now into 'identity politics,' not just as an individual phenomenon but also and more deeply as a point from which to ask some engaging and sometimes hard questions about community – questions that we see as central to environmental work from our current vantage points as college prof's.
One of the ways working with communities is happening at BMC these days is through 360°s: cross-disciplinary course clusters based on big ideas/questions that professors and students investigate across more than one course. In my experience – and also attested to by the number of environmentally-related 360s! – these 360 clusters are particularly well suited to questions of environmental studies because this field is itself about calling up these kinds of real-life, profoundly important questions. Also, 360 component about sharing back with 'community' (still in process re: who/which communit(ies) 'count'), and longer term about education as 'making a difference' in the 'big questions'…
A few years ago I participated w/Victor Donnay and Carola Hein in Cities in a 360° called Perspectives on Sustainability. 18 students worked with 4 praxis sites/communities, including two Phila schools, Haverford Township, BMC. I'll say a bit here about the two schools – parallel in that college students taught some environmental science classes to hs/ms students, and also worked with folks in the schools to create urban gardens. (Samyuktha can say a bit more in questions, breakouts.) At Parkway West HS, a longtime partner through BMC's Praxis Program, this process involved bringing in school folks along with Mill Creek community members in determining space and resources for garden, also working more deeply with several students who interned over the summer and created a video with and about community members on gardening/food and other resources in this community. At FACTS, our students partnered with a teacher, a class, and a community-based group to create a garden and a plan for sustaining it.
Anne: This past semester, along with David Ross, Jody and I co-designed a 360° on "Eco-Literacy" that included, along with multiple other (somewhat diffuse!) components, three visits to the Center for Environmental Transformation in the Waterfront South neighborhood of Camden, NJ. The Center is an environmental retreat center with an urban farm, which engages and educates people in the neighborhood, and visitors from campuses and churches elsewhere, to practice an environmentally responsible way of living on the planet. Rooted in the Roman Catholic tradition of social and environmental justice, and founded by the parishioners of Sacred Heart Church in Camden, the Center works in partnership with the community to advance solutions to environmental challenges and to create a sustainable and healthy source of fresh food.

But what does it mean for us and our students to pull into Waterfront South in two BMC vans?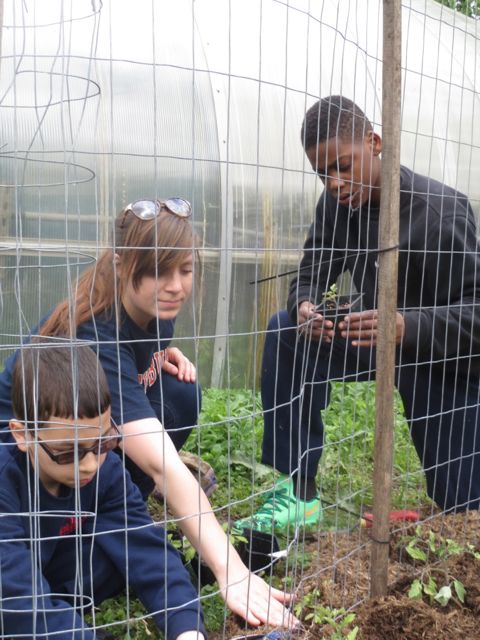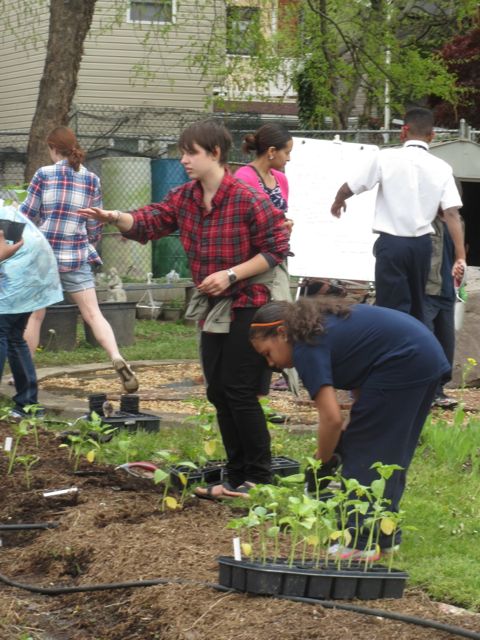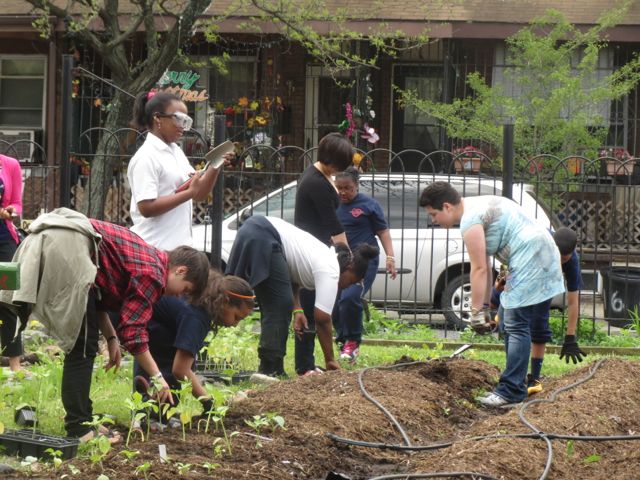 Jody: In her 2006 article called 'Teaching urban ecology: Environmental studies and the pedagogy of intersectionality,' Giovanna di Chiro describes the interface of college students and community folks/activists this way:
Traversing borders of different kinds—geographic, linguistic, epistemic, and cultural—our environmental studies class traveled this short distance to 'meet our neighbors,' as one student described it…with whom we would study the environmental problems of this corner of our shared bioregion and co-invent possibilities for socio-environmental change. Engaging in a 'contact zone' experience, the class met with organizers in Nestras Raices' bustling, multi-purpose space to listen, learn, and exchange our diverse socioecological knowledge systems and to share our visions for 'sustainability.'
Giovanna describes the educational practice here in terms of "people engaging in intersectional praxis, or "joined-up thinking" to improve their environments and communities…"
A 'contact zone' is just what it felt like when we went back to Camden to meet and work in the greenhouse and the classroom with the 5th graders from the school right behind CfET. The college students' responses were appreciative, even ebullient, and also led us into some of the complex questions about working for/with communities:
We stepped out of the college minivans into the cold Camden air, grabbing jackets and backpacks and leaving the van itself parallel parked around the corner of the street….We split into pairs or triplets, one college student and one or two fifth graders in each, to begin the work of seeding trays. I was lucky enough to work in a triplet with two City School students, Anisa and Zack. The two of them had a much better grip on the work, having already received instructions and started the process of filling seeding trays to ready them for planting...
As someone who loves being around children and doesn't do that enough while in college, I had an absolutely brilliant time on Friday's trip to Camden. We were introduced to the fifth grade students in the green house and played a name game with them. …we planted one tray with two types of tomatoes. The girls talked about their feelings regarding the taste of vegetables.
Now that I've had two days to think about the teaching and learning experience, and what I'm going to take away from all of this, I'm thinking a lot about the danger of romanticizing the story of our visit. It's easy for me to talk about how kind the students were, how moved I was by their energy and enthusiasm, but I don't want to simplify them in my telling into a two-dimensional image. The students and their lives, their experiences, the city as a whole, are far too multi-faceted and complicated for me to understand as an outsider. It's also crucial that we don't frame our visit as a white savior complex narrative- …
Anne: We fed such reflections with an essay by the Nigerian novelist Teju Cole, who wrote a well-known essay called "The White Savior Industrial Complex," in which he challenges the impulse of well-intentioned Americans to do good in the world (particularly in Africa). Cole observes that "a good heart…does not always allow us to think constellationally … to connect the dots or see the patterns of power behind isolated 'disasters' … we see no need to reason out the need for the need….How, for example, could a well-meaning American 'help' a place like Uganda today? It begins, I believe, with some humility with regards to the people in those places. It begins with some respect for the agency of the people of Uganda in their own lives….If Americans want to care about Africa, maybe they should consider evaluating American foreign policy, which they already play a direct role in through elections, before they impose themselves on Africa itself…"

Cole's essay is two years old. This month, Indigenous Action Media published another essay with a similar title and a similar message: Accomplices Not Allies: Abolishing the Ally Industrial Complex, which challenges the commodification and exploitation of allyship in the "activism industry," calls such support and solidarity "criminal," a means of perpetuating colonialism--and offers the alternative of being an accomplice, "a person who helps another commit a crime," becoming complicit in a struggle towards liberation..….
Jody: At the end of our eco-literacy project this semester, one of our seniors is heading off to work with visitors to Denali National Park. She is imagining a different sort of "accomplice-ship," musing about how an experience of "wilderness" might change our relationships with our home communities:
Even within the commonly used term "park visitor" we imply that these relationships with the park are temporary and transient.... But, I wonder if the term "visitor" also implies that the emotional and mental relationships are transient as well. How many people visit a park and are so transformed by the experience that they restructure their lives at home to be significantly more eco-literate? At the end of the day, for me, the national parks aren't simply about experiencing "wilderness"… By seeing our world as composed of larger ecosystems, by drawing parallels between the "natural" world's ecosystem in Denali, our "human-centric" ecosystems of home, and all their various intersections, perhaps it will allow us to return home and "know the place for the first time," as T.S Eliot once said ....
Groups: