Serendip is an independent site partnering with faculty at multiple colleges and universities around the world. Happy exploring!
Reading Culture: A Nudge in the Direction of Doubt
Anne Dalke
July 31, 2008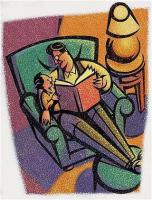 I can barely remember the time when I couldn't read.

I would go to my grandmother early in the morning when she'd slept over. Slipping up to the side of her bed, book in hand, I asked her to read to me. She always said "yes."

I was a child who loved to read. Where there was no reading culture.

I was raised in a small town in northwestern Virginia; my family and their friends were housewives, farmers, small businessmen. Not drawn to the kind of work they did--in part as an escape from that sort of labor--I read voraciously. Books gave me some understanding of the world I lived in; they also served as entry into other, larger worlds than the one we inhabited.

I have spent my life in novels.

Really: I think (if I had been keeping track I'd find) that I have spent more time with fictional characters in imaginative worlds than I have with real people in realtime. My strongest memories (for example) of a family trip to Chincoteague in 1983 are the Nadine Gordimer novels I was lost in then: the heat of South Africa was a stronger experience--and hence now, twenty-five years later, a stronger memory--than the heat on the barrier islands of Virginia. My experience of traveling from Philly to NYC and back yesterday was spent as much--more--in rural Wisconsin (where the novel I'm currently reading--The Story of Edgar Sawtelle--is set) than it was on the various forms of public transportation--Paoli local, Chinatown bus, D-train--that were moving my physical body through real space and time. I am very glad that I am of a generation and location that read/s: I cannot imagine who I would be without the many imaginary companions who people my life, and who have helped me learn not only how to escape from it as necessary, but also how to negotiate it, as fully as my friends and family do and have.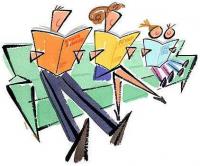 Over the past number of years, I have also embraced the web as rich resource for my own teaching and learning (as well as that of my students). I've written elsewhere about the powerful ways in which the speculative, storytelling, "humanitizing" aspect of web work draws me, and about how

I actually like the absence of in-the-flesh details on the web, which (being absent) open up space for more (to me) *interesting* and creative things to happen. I also like it that my engagement with and contributions to the web are motivated by my own story-construction (so the issue of its practical use-value quite neatly resolves itself). And I like it best of all that, in such on-line spaces of structured play, deliberative self-censure happens less frequently (than it may happen in a classroom or an academic conference, for instance)--so that I, in the company of others, can arrive more readily at some unexpected places, worth examining.

What matters most to me is that this process of ongoing and ever-revisable conversation becomes an open--and constantly edited--record both of the conversations we are conducting within ourselves, in our own heads, and of those we are having with one another, each of them continually altering the other. This, for me, is the key and core of the productivity of technologized education....taken together, those internal externalized conversations provide contributors...with a profound sense--and a record--of ourselves as thinking, re-thinking, ever-revisable beings--which means: as actors in, and contributors to, the shaping and re-shaping of the world.

Given these complimentary experiences--decades spent lost in novels, some years now thoroughly immersed in web-work--I have of course been fascinated by the current discussion regarding literacy and the internet (see, most recently, from The New York Times, R U Really Reading? and, more cogently, from The New Yorker, Twilight of the Books). As an English professor, I have noticed a marked decline in reading interest and skills over the past thirty years, what R U Really Reading? decries as the loss of "sustained, focused, linear attention developed by reading," of the "capacity for concentration and contemplation," of the inclination to "ruminate and make inferences and engage the imaginational processing."
But I'm not sure that this distresses me. I've also noticed a marked increase in those capacities celebrated in Literacy and the Web: "the ability to quickly find" and "converse with others online," to "hear from a bunch of people," to "cover a lot more of the topic from different points of view," to "skate through cyberspace at will and, in effect, compose their own beginnings, middles and ends." (The punch line of that article, for me, was the observation that "Nobody has taught a single kid to text message. Kids are smart. When they want to do something, schools don't have to get involved." Now, that gets my vote for radical education: helping kids do not what we think they should, but what they want to....)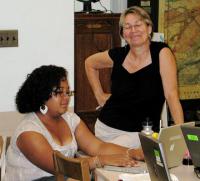 So far, so good. But where this conversation gets really complicated and interesting for me is in the question of whether engaging with lots of different people on-line necessarily serves to expand our worlds in the way reading was once said to do/has always done for me--"opens up doors to places that you probably will never get to visit in your lifetime, to cultures, to worlds, to people"--or whether time spent on the web might actually rather-or-also result in the creation of multiple ghettos of the like-minded. Are we using the web to create new or larger social and intellectual networks? Or sites for closed groups who think alike?

For me, the highlight of the review in Twilight of the Books of Walter Ong's description of the differences between the "oral" and a "literate" mind-set, is that the medium of the web might contribute to the latter. Ong's argument is that the emotional responsiveness encouraged by oral and visual culture can short circuit the kind of skepticism that reading and writing exacerbates:

"Whereas literates can rotate concepts in their minds abstractly, orals embed their thoughts in stories....In an oral culture, cliché and stereotype are valued, as accumulations of wisdom, and analysis is frowned upon, for putting those accumulations at risk....Since there's no way to erase a mistake invisibly, as one may in writing, speakers tend not to correct themselves at all. Words have their present meanings but no older ones, and if the past seems to tell a story with values different from current ones, it is either forgotten or silently adjusted....it is only in a literate culture that the past's inconsistencies have to be accounted for, a process that encourages skepticism and forces history to diverge from myth....

Emotional responsiveness to streaming media harks back to the world of primary orality, and, as in Plato's day, the solidarity amounts almost to a mutual possession. "Electronic technology fosters and encourages unification and involvement," in McLuhan's words. The viewer feels at home with his show, or else he changes the channel. The closeness makes it hard to negotiate differences of opinion. It can be amusing to read a magazine whose principles you despise, but it is almost unbearable to watch such a television show. And so, in a culture of secondary orality, we may be less likely to spend time with ideas we disagree with.

Self-doubt, therefore, becomes less likely. In fact, doubt of any kind is rarer. It is easy to notice inconsistencies in two written accounts placed side by side. With text, it is even easy to keep track of differing levels of authority behind different pieces of information. The trust that a reader grants to the New York Times, for example, may vary sentence by sentence. A comparison of two video reports, on the other hand, is cumbersome. Forced to choose between conflicting stories on television, the viewer falls back on hunches, or on what he believed before he started watching....he thinks in terms of situations and story lines rather than abstractions."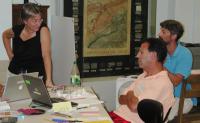 In the session I did w/ the K-12 teachers in the summer institute last week, I was (among other things) trying to look @ the difference between representing science in words and in images. Following Marguerite Duras, I asked whether a "word might not be worth a 1000 images"--precisely because it is more abstract: more open to interpretation than an image, which is more concrete, and so more directive. The point of asking this question is of course not only which form of representation enables more freedom of interpretation, but which enables more revision, which generates the making of more new stories.

If one of the goals of inquiry-based education is to encourage profound skepticism--to help students acquire the habit of unending questioning--then one very-relevant question is whether an increased engagement with the visual and aural dimensions of the internet might have the opposite effect. One claim in the Twilight of the Books is that reading "makes you smarter because it leaves more of your brain alone," allowing you, in Proust's terms, "to enjoy the intellectual power that one has in solitude and that conversation dissipates immediately." What does web-work do to us? How might it make us differently smarter?
One way to answer this question would be to loop back to the conversations nearby about Education: Between Two Cultures. Trying to imagine a community of inquiry, David suggests that "the difficulties of actual research problems are a powerful reality-check for both teachers and students, and keep the process of inquiry honestly openended." It seems to me rather that "actual research problems" (if by that you mean those defined by disciplines) actually serve to keep the process of inquiry closed: focused on the sorts of queries that the disciplines have been designed to answer, rather than allowing for a larger sort of reach. If, as Paul observes,"disciplines are also social/political groups, and tend to enforce group cohesion whether or not it is of actual intellectual benefit,"

then one of the intellectual benefits of the web might be to break up that cohesion, in search of a wider and more diverse net, one where increased sociality might actually feed intellectual work-in-progress--unless (and here's the main question for me now) the qualities of the medium itself are nudging us in the opposite direction...?