Serendip is an independent site partnering with faculty at multiple colleges and universities around the world. Happy exploring!
Seeing the Rainbow - Modeling Sex, Gender, and Sexuality Spectrums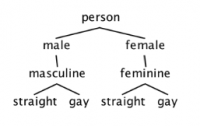 When thinking about the categories of sex, gender, and sexuality, my instinct is to organize these categories so I can better understand their meanings and relationships with each other. The image above is a tree I created to show the different ways that a person can be categorized. If sticking to a binary for each of the categories, there is a limited number of options. From a class exercise we did in Gender and Technology, we discussed the concept of having sex, gender, and sexuality each being on its own spectrum. After reading from Joan Roughgarden's Evolution's Rainbow: Diversity, Gender, and Sexuality in Nature and People, we learned about the large number of variations of sex, gender, and sexuality among animals. Although Roughgarden does not necessarily suggest that humans have the same amount of these categorical variations, I still found the concept of having these categories on a spectrum interesting. Based on this idea, I attempted to create a new tree diagram to account for these spectrums.

From this tree, I created 27 distinct types of people based on the different spectrums, with several of these distinctions incorporating some type of spectrum. Because of this, I found this method of organizing these categories incomplete, as tree diagrams cannot accurately represent a spectrum in a way that can be easily understood.
This led me to using NetLogo, a programming environment used for creating models. Through this technology, I was able to use color to represent the spectrums of sex, gender, and sexuality.
References:
Roughgarden's Evolution's Rainbow
NetLogo 4.1.2 User Manual: Programming Guide