Serendip is an independent site partnering with faculty at multiple colleges and universities around the world. Happy exploring!
The Rebirth of Penus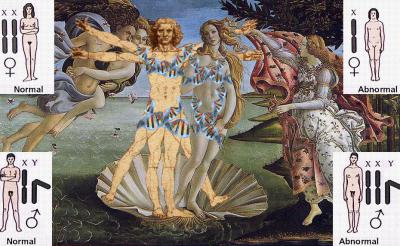 The Rebirth of Penus: This image (though open to interpretation!) is meant to show the imprisonment of identity by DNA. Venus and the Vitruvian man embody societal ideologies of what women and men look like, respectively. The four images in the corners are textbook images to teach genetics students about what is "normal" and "abnormal", in terms of sex chromosomes. These are the only four possibilities explored, although other combinations are not lethal. The supposed telltale sexual identifying features of the bodies – the genitalia of the "man" and "woman" -- are obstructed by strands of DNA.