Serendip is an independent site partnering with faculty at multiple colleges and universities around the world. Happy exploring!
Teach In : Categories & Labels may not always be bad

Project Notes
15 - 20 minutes
- Write name of each (good) and (bad)
(Prepare body notes beforehand)
1) Bring in slips of paper and post it notes. (Ari) and double sided tape (Faith)
2) Write a category that you're comfortable in. It can be one that you've given yourself or one that was chosen for you (put it on the back). And one that you're not comfortable with (put it on the front).
3) Ask people to write what they're comfortable with and then we're going to take those categories and switch them around. We'll ask people if they're comfortable with their new given categories and we'll ask them to share their thoughts.
4) Ask people if they're comfortable with their new given labels.
5) Ask people if they've ever publicly denounced a label that they've been given and ask if they've ever felt like they've been given a label that doesn't represent them at all.
6) Now do what you want with this category that we've given you. You can crumble it up, display proudly, put it behind you, put it in front of you, whatever.
My group and I put a lot of effort into thinking about what topic to present for our teach in. We wanted to pick an activity that was meaningful, thought provoking but also engaging and entertaining. We thought that our discussion on labels and categories were geared towards diminishing them and we wanted to give the class another perspective on labels and categories. We got the sense that the class enjoyed our activities and began to start thinking about labels in a new light. They also began to ask more questions and dig deeper into the idea of labels and weigh the pros and cons such as: Do I really want this label because I didn't choose it myself? Or Even though I don't necessarily identify with this label has it influenced my life in a positive or negative way? Although I don't identify with this label do I still respect it? All these questions arouse as we went through our teach in. It made me happier that we choose this topic because labels are a very complex topic that is talked about within the feminist community. Do we really want to keep labels? Throughout this course we dealt with many labels (some good and some bad). However, we never really made it clear that it was ok to be comfortable with that label. At the end of our teach in we reiterated the point that it's ok to be comfortable with your label but its also ok if you want to disassociate your self with labels as well. For example, the label "Jewish" came up in the class a lot during our discussion. Kelly connected with the label because she has had many friends that are Jewish that had a very positive impact in her life. While Emma was Jewish which is why she was comfortable with this label. This one label can be used in so many ways just like many others. One label for one person can be horrid but for the other it can be a comfort. Ultimately we really wanted to delve deeper into labels and explore the pros and cons associated with in but also get the class engaged. We hope that the class enjoyed the conversation ignited by the activity.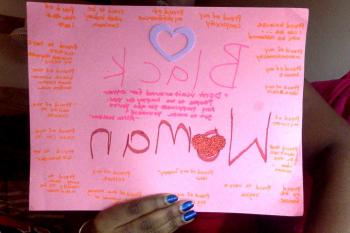 Groups: