Serendip is an independent site partnering with faculty at multiple colleges and universities around the world. Happy exploring!
The Borders of Pangea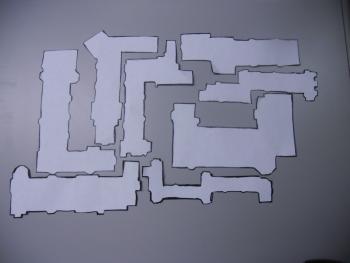 Solnit speaks a lot of the border between being lost and knowing where you are. She references Ptolemy's notion of Terra Incognita, which entailed the possibility that the Earth went well beyond established boundaries and an all-encompassing ocean. This made me think of Pangea, a state in which all land was connected, with no divides between the continents. I wanted to enact this with select Bryn mawr buildings, and see what it would look like if several of the dorms were so near to eachother they were practically inseperable. By doing this, I discovered that this created several small spaces were created between the dorms, which fade into the foreground while the large buildings stand out. Additionally, what went beyond the exterior of this new layout seems to fall away into gray space. I wonder what would be the effect on our campus if it was actually situated like this.
While reading Solnit's work, I was repeatedly drawn to the idea of Terra Incognita. When I chose my location, I wanted to a place I had yet to know. I was drawn to the idea of Inner and Outer border that I had developed through reading both Solnit and Thoreau. Ultimately, I landed upon a grassy bank of the Rhoads pond that faces the back of Rhoads and Goodheart. I chose this spot because it allowed me to look at the edge of our campus from a different and new perspective. Additionally, I feel as if it falls into the area between the Inner and Outer boundaries of our campus, that "gray space" that went so unrecognized in my visualization.
Groups: