Serendip is an independent site partnering with faculty at multiple colleges and universities around the world. Happy exploring!
Bryn Mawr College's TIDES Project featured in Association of American Colleges and Universities

Bryn Mawr College's TIDES Project (Teaching to Increase Diversity and Equity in STEM initiative) is featured in the new issue of AAC&U, Diversity & Democracy on Gender Equity in Higher Education, Spring 2015, Vol. 18, No. 2.
"This iss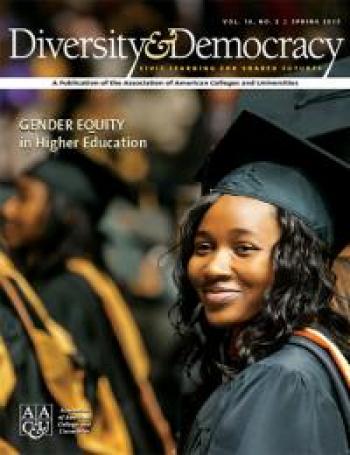 ue of Diversity & Democracy extends AAC&U's longstanding commitment to addressing gender-based inequities in higher education. Article topics include gender equity among STEM students and faculty, women's leadership in areas such as higher education administration, the role of women's colleges and universities worldwide, and the importance of creating campuses that are safe and inclusive for students of all gender identities."

In Women in Computing: The Imperative of Critical Pedagogical Reform, the "Key to sustaining US global competitiveness is the country's ability to harness the kinds of diverse perspectives that not only are known to fuel better scientific outcomes, but also are associated with the inclusion of underrepresented groups, particularly women and women of color."
Kelly Mack and Melissa Soto, Association of American Colleges and Universities; Lilliam Casillas-Martinez, University of Puerto Rico–Humacao; and Elizabeth F. McCormack, Bryn Mawr College
Groups: