Serendip is an independent site partnering with faculty at multiple colleges and universities around the world. Happy exploring!
Serendip Studio Mixing 2013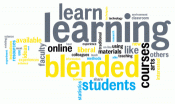 Blended Learning
"mixes" online and classroom instruction to more effectively engage students. Does this approach work for liberal arts colleges as well as larger university settings? What resources are available for faculty to develop a blended course?
This site is designed to help reduce start-up costs by making it easier for faculty to find and share information about materials and techniques that work for blended learning in a liberal arts college setting.