Serendip is an independent site partnering with faculty at multiple colleges and universities around the world. Happy exploring!
Post Secret: Depersonalization vs. Personalization

Last night, Frank Warren--the founder of Post Secret--spoke at Bryn Mawr. The Post Secret campaign was started in 2005 when Frank had the idea to ask people to write down their secrets on a blank card.  He had two rules: (1) that the secret be truthful and (2) that the secret had never been told to anyone before.  Now Frank receives over 1,000 postcards each week from people all across the country and around the world.  I found his presentation incredibly moving and it reminded me a lot of what was discussed at Haverford's In/Visible Disability conference in relation to visual art and its ability to both empower and disempower.  Throughout the evening, Frank mentioned how the Post Secrets allow for the visualization of the many "invisible connections" among people.  I love how the image of the postal service really demonstrates this connectivity. I picture all the secrets coming from different directions—overlapping, crisscrossing, or perhaps following the same path—to Frank's home where they together sit in a pile in his basement waiting to be read.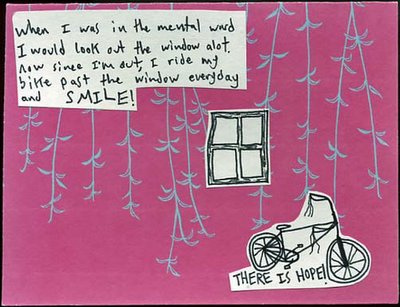 one of the secrets that Frank Warren received
Frank says, "There are two kinds of secrets:  those we keep from others, and those we keep from ourselves."  He advocates that there's something healing about externalizing secrets, about removing them from the body or mind and placing them on the postcard.  This issue of whether or not to divulge secrets is something I think people with mental illness (or invisible disabilities) struggle with everyday.  When can letting these secrets out help or hurt us?  The pleasure of Post Secret is that your secret, because it's anonymous, doesn't have to be linked with your identity.  As the secret travels to Frank's home, it leaves an invisible trace and, in a sense, detaches itself from you as it geographically moves farther and farther away.  But for those who are willing to tell others their secret face to face, there is no detachment between the secret and individual.  I question what the effects of these two different types of divulgence are.  How can this bridging of identity and secret be both dangerous and also restorative?  
For the past two years, Active Minds has put up a display of Bryn Mawr students' secrets.  We organize all the secrets on black poster boards and display them somewhere on campus.  I always struggle with assessing what type of effect Post Secret has.  These types of displays most definitely prompt the gaze and we, as gazers, don't have to feel guilty about reading the secrets because of their anonymity.  By putting all the secrets alongside one another (both the funny ones and the dark ones) they become depersonalized and, in a way, I feel that this depersonalization of the secrets gives viewers an access point to understanding difference and disability and also seeing how this difference and disability is universal (and how it works on a systematic level, rather than individual one).  
Frank's overall message was that by sharing our secrets we can come to help others.  He quoted Martin Luther King, Jr. who said, "Undeserved suffering is redemptive." Frank repeated again and again throughout his talk that no secret is solely our own and that by having the courage to share our secrets we can make our relationships with other people all the stronger.