By

sara.gladwin


February 3, 2015 - 16:24

I have all of my Serendip pages bookmarked and I almost never visit the homepage of Serendip. In exploring that homepage, I found an entire world on Serendip that pretty much never seems to intersect with my own personal use of the site. Out of curiosity, I polled some previous Serendip users, and asked about how they got to their class's page. Did they go straight to the class page, or did they go to the homepage first and then find their class page? No one I asked could remember ever using the homepage to get to their particular class, and most had their class page bookmarked as I do. I started to wonder why this might be, and whether or not there would be a way turn the Serendip homepage into a kind of home base that users would feel more inclined to visit. One of the reasons I think this might be so important is that I would like the site to be facilitate more interactions between users in different classes, rather than each class remaining in it's own little pocket of Serendip. As I started to envision ways of building these connections, I wondering if there was some way to connect posts that have the same tags, similar to the way that sites like tumblr and facebook use the hashtag symbol to compile posts with the same tags between separate users who might not have otherwise come into contact with each other. And I found myself picturing a word cloud for the most used tags on Serendip; where if you clicked on a word in the cloud, it would redirect you to a page with all the posts that had been tagged under that subject, beginning with the most recent posts.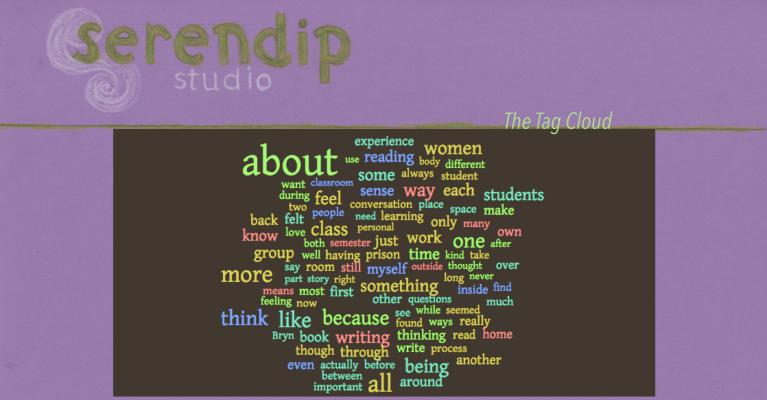 Just for the sake of a visual example, I ended up my own writing to generate of a word cloud. 
In first days of January in 2014, prior to having been approved as an independent major, Anne sent me an email that contained a 56-page document compiling all of my serendip posts from the previous fall semester. Anne mentioned that she and Jody both felt that this writing "really could 'count' as an ed thesis--in volume and quality." Opening that document was a very formative moment for me. Although we had already been talking about potentially forming this independent major, this was the first moment that I could realistically envision that independent major coming to life. I've been told so many times before that my tradition pattern, with work, and in life, is to get to the end, and completely reinvent the wheel, rather than follow through. I was always that student who worked and worked on an essay, then would get to the night before it was due, and start over entirely from scratch. So I had a lot of doubts about this independent major, about whether or not I was just looking for a way out of not finishing other work I had already started… and this was the first moment it really hit home that I wasn't starting over; I had already been working on this independent major long before I knew that it was a major. Not only that, but I think I had a lot of doubts about my own capacity to produce writing in of itself, and here in front of me, was proof that I could write. It didn't matter that it wasn't one single piece of writing, because it was 56 pages of work that I did, in a document that is longer then most of the thesis's that my friends would eventually write in the upcoming semester.
 Out of curiosity (or maybe I was avoiding other work), and I started to add all of my significant posts (so not including comments or smaller posts) from Serendip that I wrote after 2013 and leading up until last week, into this 56 page document, which quickly turned into a 223 page document. I then put all 45,054 words into a website called word it out, which then generates a cloud of all the most used words within a text. 
Update on 2/5/15: 
So I was surfing one of my favorite websites, http://www.brainpickings.org/, when I realized that it has something which is basically the same thing as the tag cloud idea, which I took a screenshot of below. Each work is a link to all her posts that are tagged with that subject!