Serendip is an independent site partnering with faculty at multiple colleges and universities around the world. Happy exploring!
Breaking (the course) 2013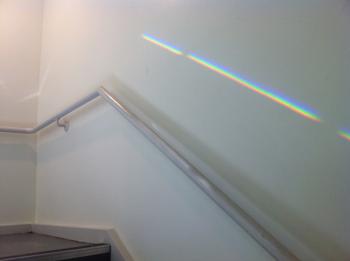 Welcome to this course on Breaking, given to first year students at Bryn Mawr College as part of the Emily Balch Seminar Program on writing, critical thinking, and creating communities of inquiry -- a friendship of minds. Here you will find the course syllabus, discussion forums, and some key texts. If you are not enrolled in the course but would like to travel along and share ideas and possibilities, you are welcome to participate in the course forums and to use the materials. To all participants: please remember to be kind to yourself as well as others here as you offer challenge and support for all of our learning.
Course Description
While human socialization through institutions such as family, school, and religion often emphasizes connection, this course examines acts and arts of disruption, how people break with ways of thinking, living, or communicating. Through reading and writing memoir, theory, and research, we will explore the dynamics of making a change by making, and marking, an end in various dimensions: intellectual and emotional, personal and social, with the goal of learning to use the idea of breaking as a lens on academic and activist work. We will begin by working with The Breaking Project, an online, evolving anthology devoted to the exploration of breaking through several media. We will then turn to additional breaking texts (print, visual, and video), including by graphic novelist Alison Bechdel, writer Chinua Achebe, memoirist Eve Hoffman, and artists Jennifer Bartlett, Isaiah Zagar, and Philippe Petit, followed by a study of educational reform as radical change. The final phase of the course will offer each student the opportunity to investigate an area of personal academic interest using breaking as an analytic frame. In addition to intensive writing, revision, and consultation, frequent informal writing and sustained writing groups will provide a community structure to support students' growth as writers and thinkers.

Please use this space to share some reflections, questions, provocations.