Serendip is an independent site partnering with faculty at multiple colleges and universities around the world. Happy exploring!
Peace, Conflict and Social Justice Studies 2012-13

The Peace, Conflict, and Social Justice Studies concentration reflects Bryn Mawr's and Haverford's interest in the study of conflicts, peacemaking, and social justice as well as related issues of human rights.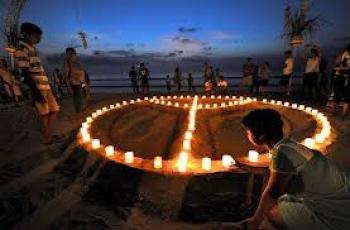 This online "book" represents my final portfolio for the Peace, Conflict, and Social Justice Studies studies concentration at Bryn Mawr. I pursued the concentration in order to link my co-curricular and academic interests in a way that is both analytical and self-reflexive, and this body of work represents the many facets of how I understand peace and social justice. Throughout my time at Bryn Mawr, issues of social justice and human rights have been at the forefront of many aspects of my life, informing my choices regarding summer experiences, coursework, study abroad program, internships and volunteer work. The concentration became a way to be able to work towards an amalgamation of these many scattered experiences together with other concentrators, while at the same time challenging my existing assumptions and ideas about the world.