A Brief Gendered History

Structure, Hormones, & Something Else?

Individual Variation

Pathology

Bibliography & Links
Changes in size of the SDN
So, males and females have different sized SDNs. Androgenized females have larger SDNs than non-androgenized females. What does that mean?
Scientists did a study using rats where they treated females with either testosterone or a placebo. Similarly, they castrated male rats (meaning they cut down on the testosterone level in the males' bodies). The following graph displays the results on the size of the SDN: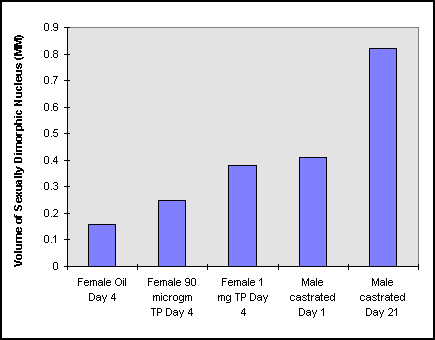 (image thanks to this site on the Neurobiology of Sexual Behavior
Females "androgenated" with extra testosterone ended up having larger SDNs than those only treated with placebo. Similarly, males who were castrated later in life (21 days versus 1 days of life), had larger SDNs.

Are there other examples of sexual dimorphic brain structures?

HOME || VARIATION || PATHOLOGY || GENDER || SEXUALITY || LINKS