The Relevance of the Brain for Psychotherapy (and Vice Versa), With Particular Reference to Human Development
Paul Grobstein
Department of Biology, Bryn Mawr College

2005 Conference: Issues and Challenges in Child and Adolescent Mental Health
Bryn Mawr College Graduate School of Social Work and Social Research
8 April 2005
notes: http://serendipstudio.org/sci_cult/mentalhealth/neuropsychotherapy/7april05/
on-line forum: http://serendipstudio.org/forum/viewforum.php?forum_id=213&start=14373
Alternate title:
Psychotherapists, social workers, biologists, neuroscientists UNITE. We have nothing to lose but our chains ...
The Mind and Self as Material Entities
The Brain - is wider than the Sky -
For - put them side by side -
The one the other will contain
With ease - and You - beside-


Emily Dickinson (1830-1886)
Problems and prospects of starting with assumption that neurobiologists and psychotherapists are exploring/manipulating the same thing:
Historical antipathies, mutual mistrust
Possibility that they aren't
Discomfort that one disappears
Discomfort that mind/self are matter, subject to "slings and arrows of outrageous fortune"
Helps make sense of observations (trauma, psychopharmacology, brain imaging)
Can broaden psychotherapeutic/social work repertoire to include historical events AND cultural influences AND genetic influences ...
Can broaden neurobiological repertoire to include .... story-telling, conflict?
Finding the Self: saying good bye to the mind/body and biology/culture dichotomies?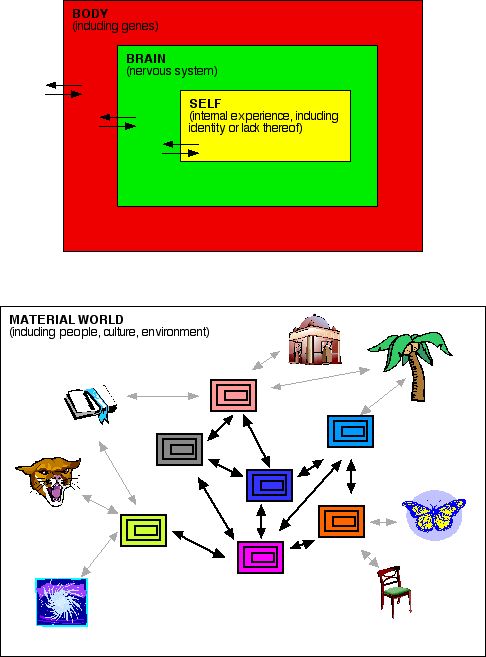 Not mind and body, not biology and culture but ....
Body with nervous system inside with part of nervous system inside that, all influenced by genes, all surrounded by (among other things) culture (itself influenced by genes)
Self is ....

Within the Nervous System: An Unconscious/Conscious Distinction

The unconscious as fundamental, rather than derivitive
Is that about oneself which, at any given time, one doesn't know ...
Distinction between neurobiological and psychodynamic unconscious necessary?

The Bipartite Brain/Mind - a distinctive architecture

Updating Freud: there is no way in other than through the unconscious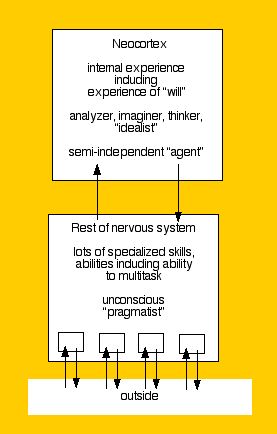 Finding Common Cause in Story-Telling?
Conscious/experiencer/"story teller" as a distinct part of the nervous system (neocortex) having a distinctive kind of organization
Stories
are not essential components of behavior
can be causally significant for behavior, create things not otherwise there
are not the only possible ones given inputs from unconscious
are "coherent", involve relatively small numbers of variables, relatively simple cause/effect relationships
typically involve "self"
can generate meaning/purpose, or express its absence
creates conflict
Working Together to Make Sense of Conflict?
How make sense of "repression", "projection", "transference", of conflict in general (intra-personal and interpersonal) ... and of therapeutic efficacy?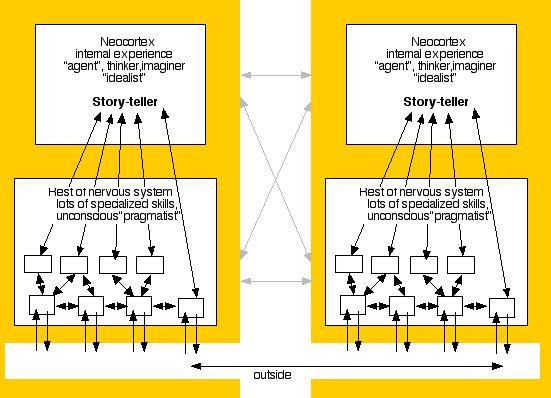 Intrapersonal conflict = differences between unconscious and story? evident in behavior, sometimes also in internal experience (Nash)
Can result from combinations of
genetic factors (schizophrenia)
life experiences (trauma)
individual/cultural mismatch
Task of psychotherapist:
to faciliate story telling by suggesting ways to incorporate unconscious signals
to facilitate conscious/unconscious exchange by helping conscious cause experiences that alter unconscious
to model effective and ongoing unconscious/conscious exchange
Conflict = differences between individuals, between individuals and culture?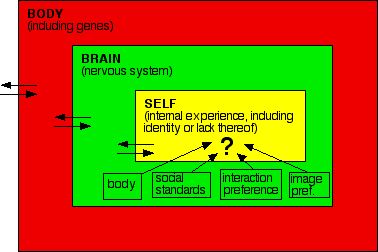 One case in point ...
From Jenny Boylan:
"plumbing and electricity work fine"
"enlarged bed nucleus of stria terminalis"
"knew from inside that I was a girl"
"gender preference" ... "gender identity" ... ?
Using biology/neurobiology to move forward ...
The Medical Model
The Biological/Neurobiological Model
presumption of "illness" as distinct category

presumption of perfectibility

presumption of all people as aspiring to same "ideal"

presumption of "patient" as object

search for efficient "quick fix" therapies

neglects (particularly for "mental health") to deal with important issues of personal responsibility, cultural influences

accepts existence of continuous variation among individuals, both now and in future - indeed encourages diversity

emphasizes importance of innate influences, as well of experience and of personal choice

acknowledges that some kinds of changes take extended time at best, may not be achievable at worst

incorporates cultural context dependence

helps to define both potentials and limits of personal responsibility
References




| Conversations | Mental Health | Science in Culture | Serendip Home |



Send us your comments at Serendip


© by Serendip 1994- - Last Modified: Wednesday, 02-May-2018 11:57:08 CDT