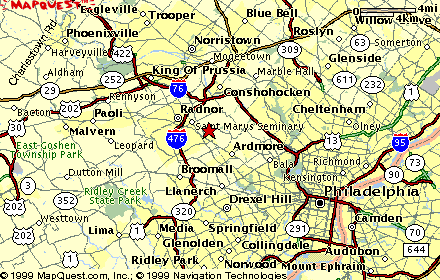 Bryn Mawr College (red star on map) is located about ten miles northwest of downtown Philadelphia. It is just north of US 30 (Lancaster Avenue), and easily accessible from Interstate 76 (the Schulkyll Expressway) and Interstate 476 (the Blue Route).

From more distant points east and west, exit from the Pennsylvania Turnpike onto Interstate 476 south. From the south, exit Interstate 95 onto Interstate 476 north. From the north, exit Interstate 95 onto Interstate 76 west or exit the New Jersey Turnpike onto the Pennsylvania Turnpike. In either case, exit south onto Interstate 476.
The most easily described and traversed approach to the College from the freeways involves exiting from Interstate 476 onto US 30 (Lancaster Avenue) east (take 476 south from Interstate 76). Drive about two miles into the center of Bryn Mawr (passing successively Villanova University, a Borders, and the Hyde Park Bank Building on your left). Turn left at the next light, which has a Starbuck's on the corner, onto Morris Avenue.
From Philadelphia, there are a variety of alternate routes to the Bryn Mawr area. The most easily described (if not the most easily traversed), is to proceed west on Lancaster Avenue (US 30) through Ardmore, past Haverford College and a Barnes and Noble (both on your left), to the next light (Starbuck's to your left) where you turn right onto Morris Avenue. Lancaster can be reached from City Line Avenue (US 1) and hence from the Roosevelt Expressway. Montgomery Avenue is an alternate, somewhat more easily traversable route from City Line to the campus area. After passing through Ardmore and the Haveford Cricket Club on your right, and Harcum College on your left, turn right at the next light onto Morris Avenue.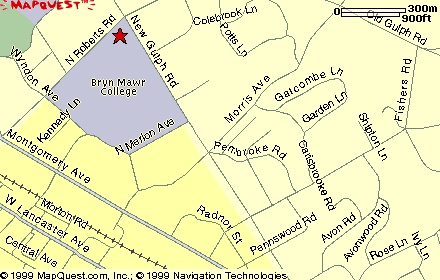 From Lancaster, Morris Avenue curves under the Main Line train tracks at the Bryn Mawr Septa R5 station and crosses Montgomery. Stay on Morris to the next traffic light where you turn left on New Gulph Road.

As shown in the campus map below, New Gulph Road takes you down one side of the Bryn Mawr College campus. Continue past the first two available left turns and take either the third or fourth into the upper and lower parts of a common parking area. In either case, park in the lower area (as indicated on the campus map. Enter the biology building from that area, where there will be signs directed you to summer institute meeting rooms.