Individual Variation

domestic cats


bird song


human development


hermaphroditic fish


crayfish aggression

Alzheimer's and other Pathologies

Gender
& Sexual Orientation

Bibliography & Links
Songbird Variation
Yes . . . their brains are very different! In fact, the difference in the brain structure is quite obvious.
There are six clusters ("nuclei") of neurons in songbirds that are responsible for the ability to produce song. In males, these nuclei are SIGNIFICANTLY larger than those in female brains. Some female birds, such as zebra finches, may even lack the nuclei altogether. The scientists Nottebohm and Arnold found that the nuclei are 5-6 times larger in volume in males than in females.
Look at the images below (schematics of a cross-section of the male and female bird brain) and compare them. The pink circles represent the presence and size of the relevant nuclei. For now, don't worry about the numbers in the circles.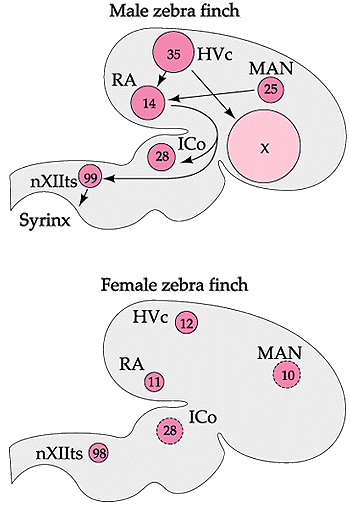 (image thanks to this page on songbirds and sex variation)


[The nuclei involved are the higher vocal center (HVc), lateral magnocellular nucleus of anterior neostriatum (MAN), nucleus robustus of the archistriatum (RA), area X of the lucos parolfactorium (X), medial dorsolateral nucleus of the thalamus (DLM or ICo), and nucleus of the XIIth cranial nerve(nXIIts)]

You probably noticed that the circles in the female finch are either much smaller than in the male finch or are non-existent. It is a striking difference, isn't it?





Yes, but why do males and females have different sized nuclei?

HOME || VARIATION || PATHOLOGY || GENDER & SEXUAL ORIENTATION || BIBLIOGRAPHY