A Brief Gendered History

Structure, Hormones, & Something Else?

Individual Variation

Pathology

Bibliography & Links
Hormone--> Brain--> Behavior?!
One method that researchers use to understand the role of hormones in terms of behavior is by using twin studies. This enables us to make direct comparisons with another related individual.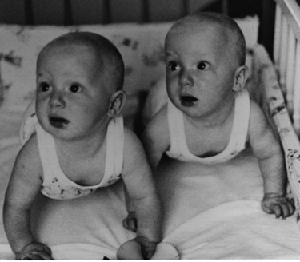 (image thanks to this twin page)
For example, it appears that twins whose twin were of the opposite sex (OS) are less "sex-typical" in behavior than a twin with a twin of the same sex (SS). In other words, scientists found that OS females were found to be much more likely to thrill-seek and be less sexually inhibited than SS females. Scientists suggest that this is due to a greater degree of prenatal exposure to testosterone while the OS females are in the womb.

What's this about "sex-typical" behavior?

HOME || VARIATION || PATHOLOGY || GENDER & SEXUAL ORIENTATION || BIBLIOGRAPHY